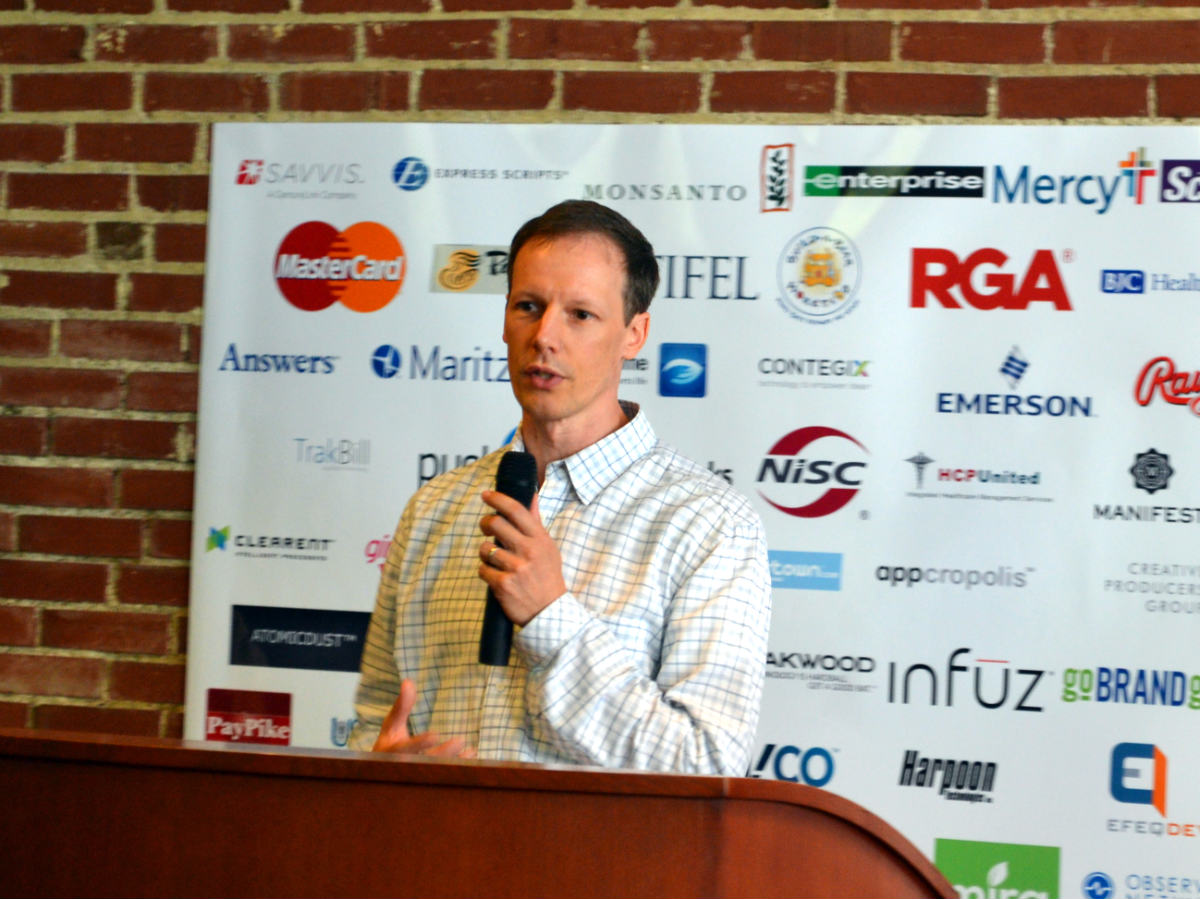 Some 18 years ago, Jim McKelvey was so desperate to find capable developers in St. Louis for his digital publishing company Mira that he hired a teenager with no work experience based on a recommendation from said teenager's mother.
While McKelvey doesn't regret that decision (the teenager was fellow St. Louis native and Twitter co-founder Jack Dorsey),  he still can't find enough talented programmers in St. Louis after almost two decades.
Today, the glass artist and co-founder of Square Inc. unveiled something he hopes will change that.
LaunchCode is a non-profit created to pair inexperienced coders with expert developers at local companies in an effort to quickly increase the talent pool for the most in-demand languages and technologies. The concept is a simple one: two coders with two keyboards working together on one monitor. It's an approach that McKelvey said is a lot faster and more flexible than higher education and has been proven to work and increase productivity at Square and other tech companies in Silicon Valley.
The effort to put together LaunchCode started just 28 days ago, McKelvey said. He was approached by Dan Lohman (co-founder of Cubicle.Com, Lab1500 and Pushup Social) and Chris Sommers, the co-founder of Pi Pizzeria and social media philanthropy startup Givver. Together with Givver lead developer Chris Oliver, Lohman and Sommers wanted to start a local program to teach more Ruby on Rails developers. McKelvey said he didn't think just teaching more developers in a specific language was the way to go. After some brainstorming, the idea of LaunchCode emerged.
The idea behind LaunchCode is not to create a few new programmers with each class. McKelvey wants to create an organization and a method of teaching developers that can be replicated and scaled.
"We have to create a system that creates such a surplus of talent that we solve the problem once and for all," McKelvey said.
The organization has spent the last month recruiting 100 St. Louis companies, each of which would sponsor one new full-time employee at $15 per hour; just enough to pay the bills while getting up to speed for three months.
Speaking at a press conference at the Lab1500 co-working space in downtown St. Louis today, McKelvey said he wants to see the entire St. Louis region come together to fix the talent gap for the entire ecosystem.
This is still an experiment, McKelvey said, one that has never been tried at this scale. But 100 companies is enough to gather early data on the program and prepare for a large second round.
St. Louis Mayor Francis Slay, speaking at the press conference, said that St. Louis has no shortage of young people with a lot of great ideas and talent. But some of them just lack the experience they need to land one of the thousands of high-paying developer jobs that St. Louis companies are trying to fill.
McKelvey said the regional response to LaunchCode has been tremendous so far. Companies that have signed up to be among the first 100 include not only St. Louis startups such as LockerDome, Food Essentials, TrakBill and Pushup Social, but also corporate giants and local institutions such as Monsanto, MasterCard, Scottrade, Mercy and BJC HealthCare.
For McKelvey, LaunchCode is another way the serial entrepreneur is linking his reputation and financial interests to the city. As a general partner of early stage venture capital fund Cultivation Capital, McKelvey is invested in several of the most promising tech startups in St. Louis. He's also worked with Arch Grants to promote the Gateway City as a startup hub by giving away $50,000 equity-free grants (full disclosure: Techli was among the first round of Arch Grants recipients). And earlier this month, McKelvey launched SixThirty, a tech accelerator for startups serving the financial services industry.
The next chapter in the LaunchCode story comes on Sept. 22, when McKelvey will host the aspiring coders at an event at the Third Degree Glass Factory. Those interested in signing up for LaunchCode can do so here.