[Dallas, TX] Vignature, an image-based electronic signature provider, released its consumer-facing Android app, SimplySign, earlier this month to complement its iPhone and web offerings. Through the app, users can legally sign documents by taking a photo of themselves with their phone's camera. The app then inserts the image onto the dotted line in the specified pdf document with no faxing, printing, or scanning required. Could this be the end of the traditional signatures as we know it?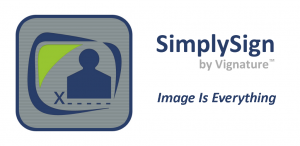 After successfully exiting from his previous venture Elinc, Founder Matt Spradley began helping small law firms with various internet marketing solutions. He saw an opportunity in adding an electronic signature service, and soon thereafter Vignature was born. With his wife Kelly Spradley (CMO) and Scott Roberts (CTO) now by his side, the Vignature team is carrying out their mission to provide a new way to sign documents that reduces fraud while saving time and money.
"Signatures have been broken since the quill. If you sent me a signature in the mail I wouldn't know it was from you. If you sent me an image, I would know it's from you," said Matt.
Beyond the security issues, the startup brings a strong value proposition to the table. Use Vignature, and cut your costs. Over $8 billion was spent on overnighting documents for signatures last year. With consumer, business, and enterprise solutions, Vignature is looking to take a bite out of that statistic while helping its customers save time through electronic delivery.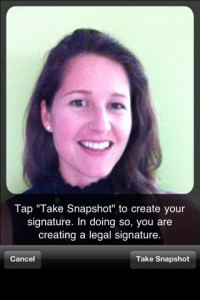 Despite this, Vignature has its work cut out for it. Paper signatures account for 99% of the market, a dominant incumbent that a good product alone won't be able to overcome. In addition, the average consumer isn't educated on how to use electronic signature, let alone mobile electronic signatures. I questioned Matt on the timing of Vignature, and whether or not consumers were ready for the change.
"We think the timing is perfect. Webcams are ubiquitous – my daughter's $300 laptop has one and all phones have them. So hardware timing is perfect. Social networks are lowering the bar to get people to take photos of themselves even if their hair isn't perfect. That's why we're going for funding because we know other people are going to be doing this and we need to do it quickly."
Earlier this year, Vignature raised $25,000 in seed funding from Tech Wildcatters and have self-funded themselves with an undisclosed amount. Currently, they're actively pursuing Series A funding of $750,000 in order to scale their sales and marketing efforts.
"Tech Wildcatters was good for us because it generated [funding] interest in California and elsewhere. We're confident we'll secure a round, it's just a matter of when," said Matt.
In the meantime, Vignature is focused on customer acquisition in the consumer segment – with a particular emphasis on real estate agents, athletes, lawyers, politicians, sales reps, and other mobile professionals – where feedback has been positive thus far, and changing the way people think about signing documents.
"In ten years, everyone's going to be signing the dotted line with their Vignature. We want to be the people to make that change."
———-
To learn more about Vignature, visit their website or follow them on Twitter @vignaturetweets.
To download the mobile apps, visit the App Store or Android Market.
To connect with Matt, follow him on Twitter or connect with him on LinkedIn.