When we reflect on our childhood dreams, visions of Wild West exploits, adventures with exoticpeople, and working with cool magical contraptions come to mind. Dennis Manarchy is getting ready to do just that. The veteran photographer is preparing to embark on a 20,000 mile journey across the United States in a semi truck-sized camera for a last attempt to visually preserve America's vanishing ethnic cultures.
Currently showcased at the
Techweek 2012
expo, the Vanishing Cultures Project is raising funds to build a 35-foot-long film camera, reminiscent of those found at the turn of the last century. With an astonishing 97,000 megapixel capacity, the device will capture the black and white portraits in microscopic detail and outshine some of the most powerful digital cameras of today.
Manarchy's personal journey is as facinating as the trek to follow this fall. Once a disillusioned Vietnam veteran, Manarchy returned from the war with a heavy heart and by serendipitous fate met a Native American chief in a book store. Intrigued by the man's story, Manarchy lived on the reservation for half a year and learned about their way of life. The event inspired a lifelong appreciation for these rapidly vanishing nations and a passion for cultural and philanthropic projects.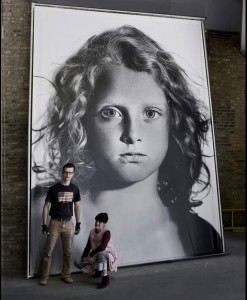 The project intends to document the disappearing groups in two-story tall, black and white portraits as true to reality as possible. The resolution is so sharp that every whisker and eyelash stands out in stark clarity. In the photoshop editing era of today, such resoluteness of reality is rare. "Nowadays nobody trusts photography anymore because it's so manipulative," Manarchy says, a towering 12-foot tall image of a wrinkled Cajun farmer behind him.
The project began 10 years ago with the first prototype printing. While the prototype camera produces images of satisfactory clarity, Manarchy envisions something grander. "We need a travel-friendly model that we can take on the road and in order to improve the quality we need a bigger camera."
The subject will be seated at the camera's opening on a flat bed. The photographer sits inside and the image then projects for the public to see. With an already published itinerary of 50+ American cultures ranging from the Navajo, Eskimos, cowboys, interred Japanese, and WWII Medal of Honor recipients, the team will produce educational materials and other documentation to promote the cause.
So what is the next step? VC plans to align with anthropology departments at Chicago-based universities like the University of Chicago in the hopes of bringing some academic back-up to the project.  The ambitious trek will culminate in a multi-city exhibition space featuring the large portraits, that will bring the road trip to the public eye and raise awareness about this rapidly disappearing yet integral American relic.