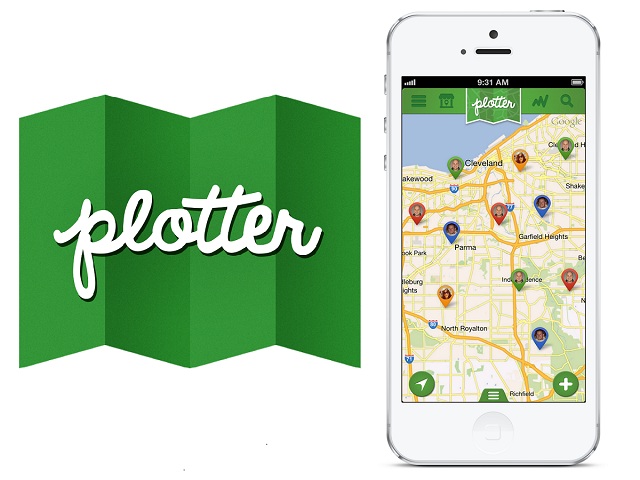 Imagine you're visiting an unfamiliar city. Your first order of business is to seek out delicious places to eat and drink, as well as unique sightseeing attractions. To find these local gems, you might check Foursquare and Yelp for tips, browse TripAdvisor or ask friends for suggestions. But how do you organize these recommendations—and find out where they are—especially when you're not acquainted with the terrain?
Enter Plotter, a Cleveland-based startup that was recently named a SXSW Accelerator Interactive grand prize winner in the Social Technologies category. The smartphone app lets users create a customized guide to a city by "plotting" locations of interest on a map using virtual pushpins. Users can then share these personalized travel companions with friends, see maps their friends have made, solicit recommendations from social networks or even browse pre-made maps in what Plotter's dubbed "The Map Room."
"Apple and Google maps work great, but the problem is that you can only use them to search for locations and get directions," says Plotter's Founder & CEO, Tom Nolan. "We created an alternative, where you can create, crowdsource and share maps of your favorite locations."
Nolan— a first-time entrepreneur who comes to the startup world from the advertising industry—came up with the idea for Plotter a little over a year ago (in fact, as he prepared to attend SXSW in 2012). He had a collection of recommendations for things to see and do in Austin, but realized he "could not easily organize all of these locations onto a simple map view on my phone. I was stuck searching for one place, canceling that out, searching for another, canceling that out, and on and on."
Nolan let the idea percolate in his head for a few months and then brought the concept to some development-minded pals, who were immediately enthusiastic. He and the rest of the Plotter team—Chad Milburn, Tim Zeller and Chris Jungjohann—then spent the next five months building the app, with the goal of releasing it at SXSW this year.
Being lucky enough to land a spot in the SXSW Accelerator gave the bootstrapped team a distinct advantage, even though they were competing against startups with more experience and funding. "This year more than ever, the startup scene at SXSW was very crowded," Nolan says. "For companies not in the Accelerator, they had to make a big effort to stand out by either getting a booth in the exhibit hall or setting up stations around the convention center, pitching their product/service to anyone who would listen. Just being in the Accelerator got us a ton of attention and press."
Post-Accelerator, Plotter received not only investor interest—"We were approached by VCs and angels literally minutes after I got off the presentation stage," Nolan says—but valuable customer insights. "We got tons of new users very fast who have provided great feedback and validation. We found out very quickly what we were doing right—and also what we need to work on."
Refining and expanding Plotter's product is indeed on the docket for Nolan and crew. An Android app is in the works (it's currently only available for iPhone, iPad and iPod), as is a website that'll let users create maps and sync them with their smartphone via the cloud. Fundraising is also on tap: "Our goal is to raise capital and build an all-star team in Cleveland in order to take Plotter to the next level," the founder says.
In the end, Nolan believes the Plotter team took the top spot because of its strong, grounded foundation. "We won because we have a simple and solid idea with an extremely passionate team. We're the definition of agile. We've been able to work incredibly fast with the shared goal of creating the very best mapping experience to help people better navigate the world."