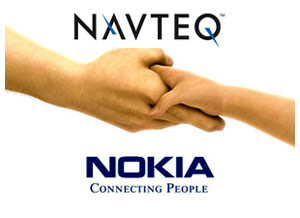 As projections for global location-based services market are expected to reach US$10.3 billion in 2015, up from $2.8 billion in 2010, Nokia is taking advantage of opportunities in this growing field.
Nokia's acquisition of NAVTEQ in 2008 was only the first step in securing its position as a provider of  location-based services (LBSs).
An independent subsidiary of Nokia Inc, NAVTEQ is "the leading global provider of maps, traffic and location data (digital location content) enabling navigation, location-based services and mobile advertising around the world."
On June 22nd, 2011, Nokia announced the creation of Location & Commerce unit which integrates NAVTEQ's business with Nokia's social location (maps) services and operations.
Headed by newly appointed Executive VP Michael Halbherr, the Location& Commerce team aims to create the next generation of social location products and services for consumers. The goal is to "more fully integrate Nokia's deep data assets around consumer behaviour and related community data," according to their press release.
Map-linked advertising, the key to generating cash from location-based services, is starting to take off and is expected to grow to over $6.2 billion by 2015 according to Pyramid Research. With this in mind, Nokia asserts its renewed mission for mobile and location based services.
Faster networks and the adoption of smartphones have led to the growing trends in location-based services, especially in the use and reliance on GPS devices. As these growing trends are expected to continue, companies are pushing to capture market share.
With steep competition from Apple and Android, the new approach to location based services can give Nokia the edge it needs to seriously compete. In April, Nokia and Microsoft announced the signing of an agreement solidifying their partnership. In 2012, Nokia is expected to release "volume device shipments" of Nokia devices running Windows Phone. But is it a race against the clock? There is even some speculation that the new Nokia Windows Phone 7 will hit the market as early as Q4 2011.

Why are location based services such a big deal?
When everything is at our fingertips, LBSs opens up the door to a whole new mobile revolution.
Gartner reports that "location is one of the main enablers that deliver services to users based on their context and, Gartner expects the total user base of consumer LBSs to reach 1.4 billion users by 2014."
The recent formation of the Location & Commerce unit allows Nokia to more fully integrate with all of  NAVTEQs LBSs. No doubt, it will put Nokia in the forefront of global mobile innovation.