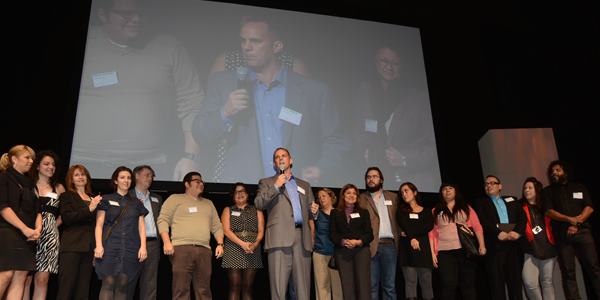 This week Latino-focused startup New Futuro secured The People's Choice Award at the Chicago Innovation Award ceremony for its recently-launched bilingual online community. Since 2002, the prestigious award has been given to Chicago companies that have introduced game-changing products and services in their respective marketplaces.
Launched in late September, New Futuro is a free online platform that enables Latino students and their families to prepare for higher education. The Chicago startup has created a fully bilingual interactive community where users can access a wealth of information on universities, financial aid, tips for parents, and scholarship opportunities for Latino students.
New Futuro not only allows students to track Latino-focused scholarships to stay on top of deadlines and upcoming opportunities for financial aid, but even offers Latino scholarships of its own through a variety of public and private sector partners from around the US.
"This award does not just recognize our efforts, it recognizes the collective efforts of the hundreds of organizations who have partnered with us to help millions of Latino families and their students get into college and beyond," said New Futuro co-founder Martin. R Castro. "Together we are helping solve the U.S. education gap and ensuring our country remains a global economic leader."
New Futuro was the only Latino-focused company out of more than 400 nominees represented at this year's Innovation Awards. The startup won amongst 78 other Chicago companies after a round of voting that closed earlier this month on the Chicago Innovation Awards website. Other winners this year include BrightTag, Medline, and Feeding America, among others.
"To receive an innovation award, in a city like Chicago where the startup scene is thriving is a huge honor," said New Futuro co-founder and CEO Peter Wilkins. "It truly validates that organizations like ours with a double bottom-line are paving the way for the future of America. We are creating enormous economic value while we help change the world."
Visit NewFuturo.com to browse the bilingual content of the recently-launched Latino startup, and be sure to check out the Chicago Innovation Awards official website to find out more about all of this year's winners.
Image credit: New Futuro