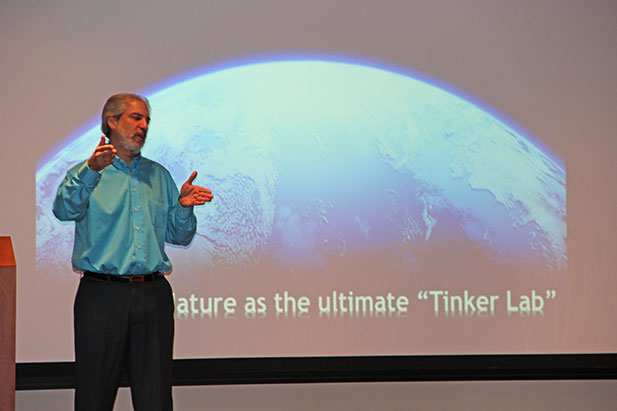 On September 19, Ken Herold, Architect of the Possibilities, ThoughtWare LLC, kicked off this year's SPICE speaker series.
Herold discussed the impact nature can have on design and science, known as biomimicry. He shared examples and explained the importance of understanding how nature has evolved solutions over billions of years.
For example, Velcro was invented after a hunting trip in the Alps in 1941.  Swiss engineer George de Mestral's dog encountered burdock burrs. After viewing it under the microscope, he discovered a simple design.  After years of experimenting, he invented Velcro, earning a U.S. Patent in 1952.  Another great example is the Shinkansen bullet train.  The kingfisher, a bird that has a long beak and barely makes a ripple in water when searching for its next meal, inspired Eiji Nakatsu to change the nose of the train.  It solved not only a noise issue when emerging from a tunnel, but it enabled faster speeds and reduced the power it used.
"He really put biomimicry in a broad context I was not aware of and then brought up specific examples that really were inspiring," said Peter Iliya, iScholar at Parks College. "The natural airflow columns observed in termite mounds showed how much we could learn to innovate and maintain a more sustainable relationship with the environment."
Herold has 30 years of experience as a catalyst for change. He has turned software technologies and information into knowledge as a competitive advantage. He blends his design education in architecture, a technical background in computer science and an advanced education in artificial intelligence to keep clients on the cutting edge. Before accepting his current role as an advanced technology consultant, Herold served as CKO (Chief Knowledge Officer) at HOK for more than 14 years, one of the world's largest global architecture and engineering firms.
SPICE, sponsored by KEEN and the Coleman Foundation, is a free ongoing speaker event to enhance the flavor of engineering education by bringing technology visionaries into direct contact with students and practitioners.
KEEN, Kern Entrepreneurship Education Network is a collaboration of 19 universities around the U.S. that strive to instill an entrepreneurial mindset in undergraduate engineering students.