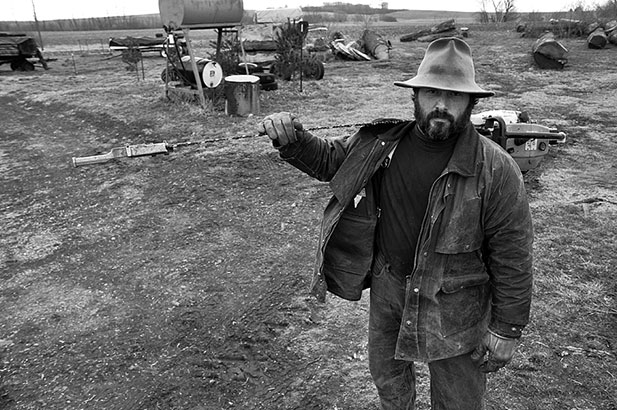 It is written somewhere in biblical texts, or perhaps I read it here in the men's room at the St. Louis Zoo, that "behind every great startup is a great mustache."
I was reminded of this today when the American Mustache Institute released its 10 finalists for the 2013 Robert Goulet Memorial Mustached American of the Year award, and I noticed Brian Moylan and Dave Stine in the mix.
Moylan is a journalist by trade, but he's also a driving entrepreneur focused on creating dating websites for both straight and gay folk alike. The dude straight-up digs helping people find a little strange, and that does not suck in any way.
The St. Louis-native Stine is a master craftsman and is an entrepreneur through and through — he is a pure solo artist and walks to the beat of his own drum — and at the same time produces some of the finest handcrafted wood furniture known on the planet.
"The Goulet award finalists are a best-in-class of the past year's Mustached American people," AMI Chairman Dr. Adam Paul Causgrove said of the Goulet award. "All of our finalists display an entrepreneurial spirit in one way or another and Mr. Stine and Mr. Moylan are great examples of this.  Hopefully one of them will join us at 'Stache Bash 2013 in Pittsburgh, and we will crown them for their greatness."
The Goulet award is not a "best mustache" contest but recognizes the person best contributing to the sexually dynamic Mustached American lifestyle over the past year, which the winner will be announced at 'Stache Bash 2013 Presented by Wahl Trimmers, on October 26 in Pittsburgh.
The 2013 finalist pool – which you can see in full here – includes fellow journalists Ron Burgundy and Brian Fantana; Boston bombing suspect nabber David Henneberry; National Hockey League's Mike Brown of the Edmonton Oilers, and the annual animated finalist — Cartoon Network's Uncle Grandpa.
The 2013 Robert Goulet Memorial Mustached American of the Year award honors the late and legendary Robert Goulet, whose voice, trademark mustache, sense of humor, and black leather jackets represented a quadruple-threat of talent the American Mustache Institute is proud to salute.
'Stache Bash 2013 Presented by Wahl Trimmers, where the award shall be presented, is the American Mustache Institute's annual costume-heavy music and mustache celebration, this year benefitting Steps to Independence, a Pittsburgh-area not-for-profit focused on Conductive Education for children with motor disabilities such as cerebral palsy.
What do you think? Does a great mustache give your startup an edge? I challenge all male startup entrepreneurs to give it a try. Report back to me with your results.  I'll be hanging in the zoo for a bit this month.