So many times we romanticize about startup founders and make it seem like they're basking in "overnight success."  It's so easy to forget the road to being an entrepreneur is hard, it requires a lot of late nights, and let's not forget extremely hard work when you're likely broke and working out of your parent's garage.  Well, this story has most of that, too, but "overnight success" is not a far stretch for the group who founded Locket.
It's an NYC-based company that transforms how brands advertise to consumers through what they call "First Glance Advertising." The concept is simple.  They deliver beautiful, print-quality advertising on smartphone lock screens, then the app rewards users for simply using their phone. It's the reverse of other application models.  Instead of making you pay to have an ad-free version, they make it so brands pay you to display their ads.  You're probably thinking, "That can't be right."  Well, they're really doing that.  Granted, it's not a ton of money, but it is something.  Here's how it started…
Yunha Kim used to work in an investment bank.  She graduated magna cum laude from Duke University, having done everything right.  But, she was bored.  "I wasn't able to do anything fun on my monitor, so I was checking my phone probably 200 times per day.  That's when I realized I keep on checking my phone every single day, bringing it to the restroom, everywhere I go," said Kim.  "Every single one of those moments I was unlocking my lock screen.  It was a picture of a daisy, and it was pretty ugly.  I was looking at it and thinking why isn't anyone doing anything with this lock screen."
This was in February of this year, and Kim didn't wait to do something about it.  "I decided to leave my company within a week of having this idea," said Kim.  "This is going to be the next thing, we're going to see ads on the lock screen, and I want to be the first one to do it."  After quitting her comfy job in banking, she grabbed three of her guy friends and moved in to a two-bedroom apartment with their three dogs and 1 hamster.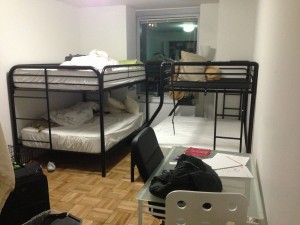 "It's been a crazy rollercoaster," said Kim.  "We have three guys who are living in one bedroom, and we have two bunk beds.  And the other room is me because I'm the only girl, so I'm lucky to have my own bedroom."  Now, this is where they sound like your normal startup.  Working all hours of the night, eating cheap food like hot dogs and pizza.  But, they didn't have to wait long for others to recognize the potential that Locket provides, and those eating habits only lasted about a month.
"I connected to a VC, I went in to a huge partner meeting, and that was my first VC pitch in my life," said Kim. "The interesting thing that happened was right after the pitch the partner called that day saying they wanted to invest.  We ended up closing our round within three days of fundraising."  By securing funding early, it allowed the Locket team to really focus on making the product, which is exactly what they did for the next three months in the living room of their apartment.
Since then, they've expanded their team to 11 people, including opening a second office in San Francisco to accommodate their extremely fast growth.  "We have grown very fast.  Our monthly goal was 10,000 users, and we ended up getting that number within 10 hours of launch," said Kim.  "On the second day, [we] had 25,000 users, delivering over 2 million impressions per day.  Within a month and a half, we had 150,000 users, and that was our yearly goal."
Do you see why this might just be a Cinderella story?  Of course, they have faced their challenges.  Even though their investors saw potential in the concept, they still had to convince the advertisers.
"Before we launched, this whole idea was so new to advertisers," said Kim.  "Back then [before users], it was selling on vision.  Currently mobile ads are small banner ads and are just so small already.  And then pop up adds that come up while you're playing a game or something, they disrupt you.  And so the ads turn in to a negative message because you just got disrupted and annoyed, right? So we've been evangelizing this thing saying this is going to work long term."
It makes sense, but advertisers want to see proven results.  Without any users, that's hard to do.  When they first started, Kim approached several movie studios, thinking that this would work quite well for the entertainment industry.  "At that point, they were saying, that's great.  Come back to us when you have half a million users.  That's when we'll start looking at you guys," said Kim.
That's when Locket did something a little unorthodox, and definitely something that's quite risky.  "We needed advertisements, cool ads [for movies] to get to that level," said Kim.  "So we created our own ads, and without their approval we just ran it on the lock screen."  Fortunately for Locket, their risk paid off.
"What happened, that ended up being the best performing ad ever," said Kim.  "The click through rates on those ads were about 9%, and that's not seen anywhere else in mobile advertising."
The agency guys must have been using their app, because it wasn't long before Kim received an email asking about it.  "So I emailed [back] and said so sorry I can take it down any time, but you were the best performing ad," said Kim to the agency guys.  "It's like a no brainer for them, but that's how we got some of the other studios looking at us.  How do you get in with agencies when they're really not looking at you?  So, it was a pretty cool experience," commented Kim.
Of course, they've come a long way from that moment.  Today, they're turning down advertisers to preserve the custom user experience.  "This is a personal, sacred space on your phone, so we don't want to bombard users with ugly creative," said Kim.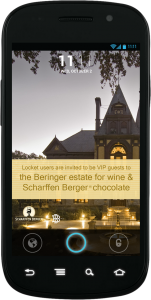 And, they're not just running standard ads through the app.  They're creating unique experiences for their users.  A great example was their recent event with Scharffen Berger Chocolate Maker, a subsidiary of the Hershey Company, and Beringer Vineyards.  They ran a beautiful series of ads in the days leading up to the event, allowing users to familiarize themselves with the chocolates and wines available.  And, all users were granted a spot on the guest list, which gave them a 2-for-1 special for the event.  All they had to do was show Locket upon arrival, and they were given a special VIP experience featuring a private tasting with the founder of Scharffen Berger Chocolate Maker John Scharffenberger.
"Everyone is trying to do click here to go to our website or win a free iPad," said Kim.  "But with Hershey's, what they're trying to do is bring digital advertising into life.  So it's inviting users to their wine tastings in Napa Valley and sending an exclusive offer to those who attend with the app.  That was a lot of fun where we're giving a more engaged user experience."
This event is just a glimpse into what's possible with Locket, and far from what they're capable of producing.  Currently, they're only available for Android devices, but that will soon change.  "Since we have just a small piece, our next steps are so many.  We're moving on to tablets as well as iOS," said Kim.  "The vision for the company, that yes we start with all the ads, but our long term vision is to be able to generate a content recommendation engine on the lock screen.  How cool would it be that you're walking two blocks away from Starbucks and you see them offering you a coupon or a daily summary from Groupon featuring the best deals in your area."
With those possibilities, it's easy to see why Locket is somewhat of a Cinderella story.  They have all the makings of being the next big thing in mobile marketing practically overnight.  Either way things turn out, it's going to be exciting to see how this rollercoaster of sorts ends.  After all, it's only been six months since Kim walked away from her job in investment banking.
Even though we can't all be like Locket, she does have some advice for up and coming entrepreneurs.  "I didn't know anything about startups.  I didn't know about the advertising world either.  I didn't know how to raise money, but you learn it all as you go," said Kim.  "I think that's much better than sitting and reading books about it, because essentially you're wasting time.  If you did it right now, you'll achieve much more.  That's the motive that we have in our company.  If you have an idea and you want to do it and you're passionate about it, drop everything you're doing and start right now!"