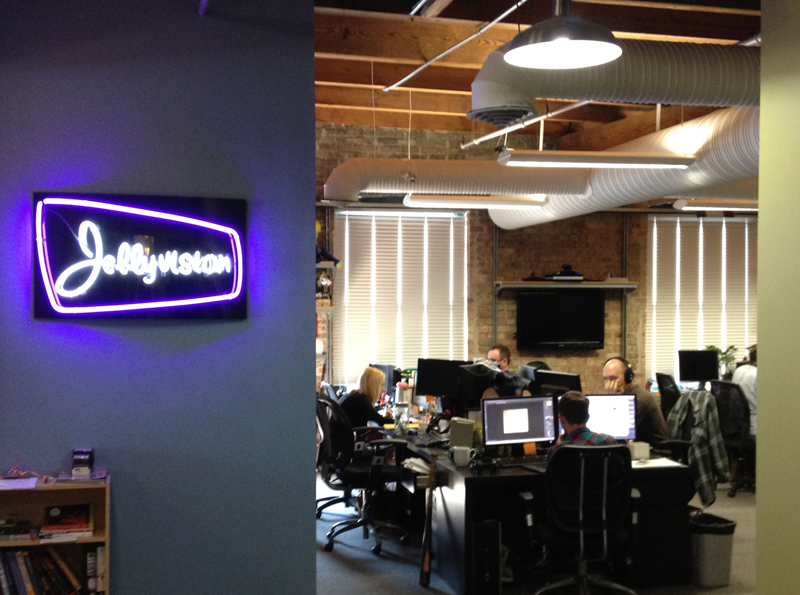 Long-running Chicago game studio Jellyvision is best known for its quirky trivia game You Don't Know Jack, and has more recently been hard at work on an interactive benefits counselor called ALEX. The Techli team recently had a chance to take a tour of the company's newly-renovated offices — a former water tower factory that the studio has occupied since 1998 — and sit down with a few team members, including CEO Amanada Lannert, to discuss the success of the new YDKJ Facebook game, Applebee's Lunch Decoys, and why resumes are bullshit.
In its current state the company is split into two divisions: Jellyvision Lab and Jellyvision Games. We first spoke with marketing director Marc Blumer of the games division about the latest version of YDKJ that launched on Facebook only three months ago. Since then the game has been installed more than half a million times — a big portion of which occurred after Facebook implemented its app center, according to Blumer.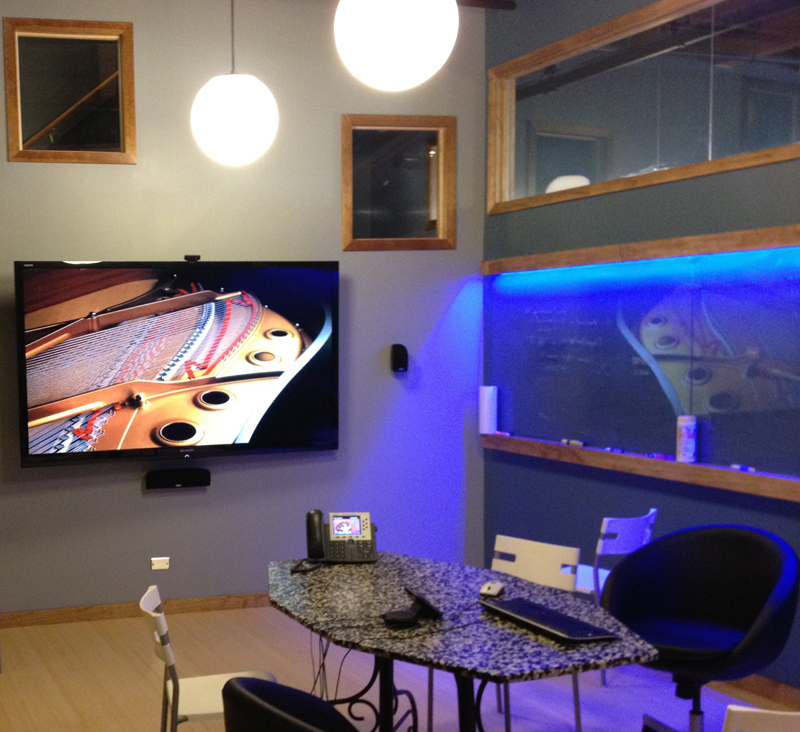 The marketing director described Facebook development as "building a plane in the air," with tweaks and updates being implemented regularly, the most recent of which will include phasing out Facebook credits so that the company can have more control of its in-game currency. The Facebook title allows users to buy or earn credits for watching promotional videos, and spend them on new episodes, score enhancers, and even achievements. Blumer said the next phase of YDKJ will be a return of the mobile app, which in its new iteration will feature cross-platform play with the Facebook version. The marketing director wouldn't divulge the specific release date of the new mobile app, though he promised that "leaves will still be on trees" when we can get our hands on it.
Blumer joined Jellyvision six months ago after working in both creative and marketing departments at Chicago's Slack and Company. Blumer said the application process tasked him with creating a marketing plan for the company's previous YDKJ mobile app from scratch. The marketing director conceded that the process not only got him the job, but showed him just how much he wanted to work for Jellyvision Games.
"Everyone has an audition to get their job at Jellyvision," said CEO Amanda Lannert. "If you won't participate, you don't have the mindset to work here."
Company recruiter Adrienne Rosczewski admitted that she had stalked Jellyvision for nearly a year before landing an interview, which culminated in her reviewing and critiquing the materials of three previous applicants. Before starting at Jellyvision Rosczewski worked as a nanny.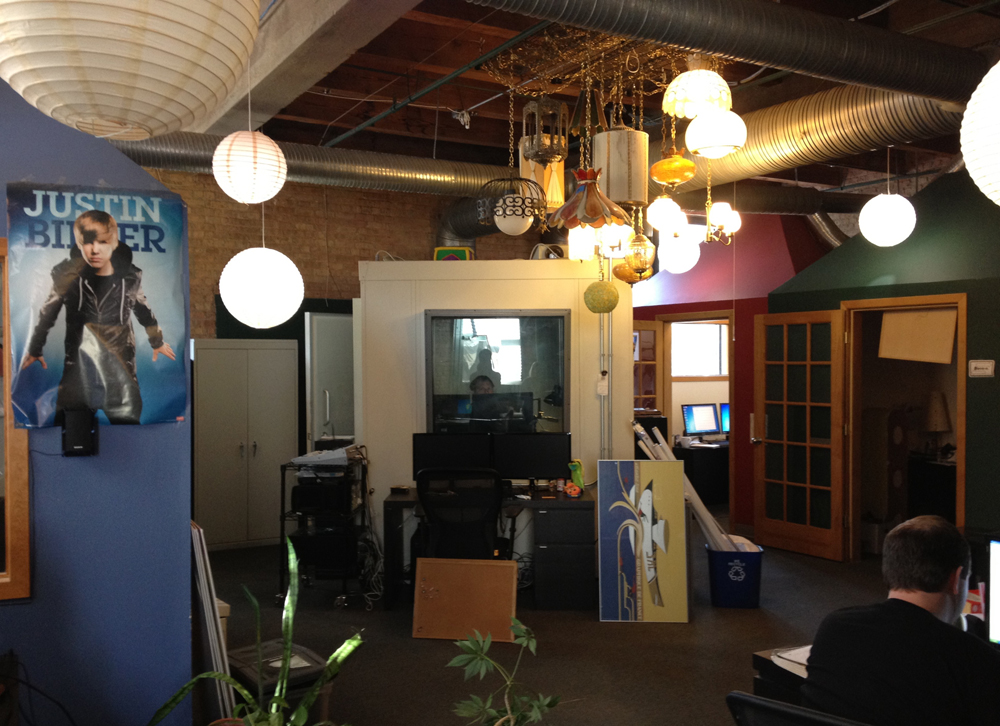 This kind of story isn't unusual for the long-running company, whose head of product development, according to Lannert, used to teach chess dressed as a wizard. "We have the weirdest team," the CEO admitted. Despite its unusual hiring practices, the company continues to stick with a formula that has worked best for them over the years. Lannert emphasized the importance of finding the people who feel right for the team, who put the time into their cover letter and kill the audition, over uncovering that one golden resume from the pile. "Resumes are bullshit," said Lannert. "They're an indicator of the past, and we're much more interested in the future."
With such a diverse and unusual group of people working together, office hijinks are a given among Jellyvision's team of nearly 70 employees. Lannert said the best joke in recent memory started with a recent Applebee's commercial featuring an inflatable lunch decoy, which the restaurant chain began selling through its corporate website for $6.99 a piece. "It was so stupid," Lannert said. "I had to get one."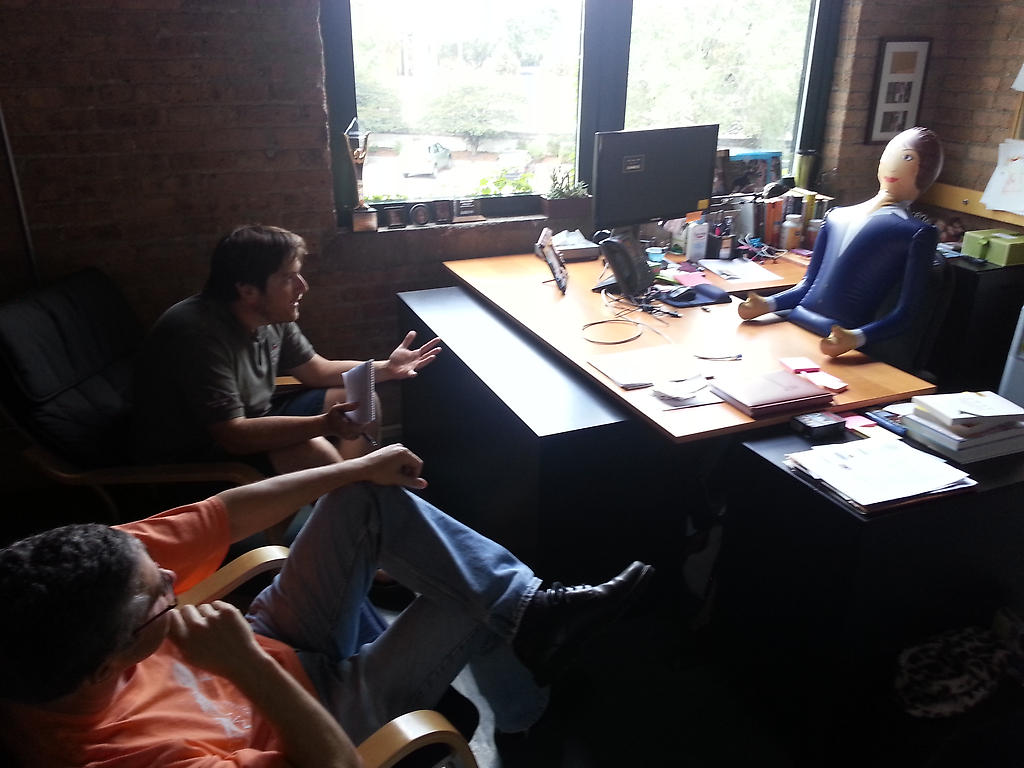 Lannert left the decoy behind in her office during a day off at Six Flags with her family, and quickly began receiving messages of concern about how distant she had been acting lately at work. Lannert checked her email to find pictures of coworkers conducting a meeting with the inflatable businesswoman, who had assumed her daily duties behind the CEO's desk.
Special events among team members include the upcoming mustache day (which happens to coincide Lannert's September birthday), a chip dip fest, employee art auctions for charity, and pancake day. Lannert pointed out that hiring like-minded people has led to a company culture that permeates much deeper than office pranks and quarterly events — one that is established continuously through every day interactions between coworkers at Jellyvision.
"I don't play hard," Lannert said of the old adage. "I just play frequently."