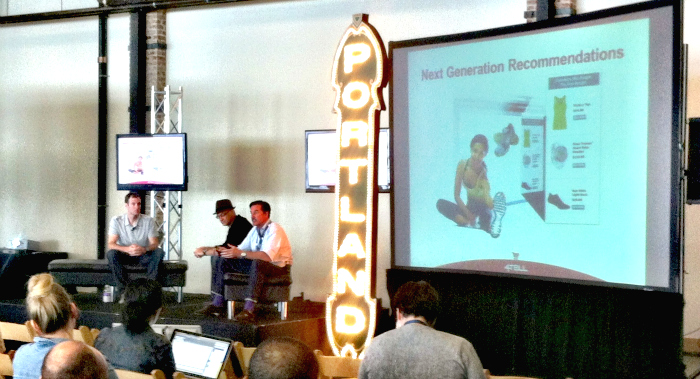 Representatives from two Portland startups that are revolutionizing the digital retail experience took the stage at the second Portland Digital eXperience panel today to share how they think about personalizing ecommerce on mobile and the web. VP of Marketing for personalized recommendation solutions company 4-Tell Tom Byrnes accompanied André Wolper, the CEO and founder of visual experiences solutions company embodee to talk about how their companies are changing the retail landscape.
Byrnes kicked off the panel discussion by framing the the complexities of retail as more shoppers become what he calls empowered moving targets. "The challenge for retailers is how to seamlessly deliver personalized recommendations in real time," stressed Byrnes. Major issues with recommendations on the web include the complexity and expense of recommendation technology. To get around these issues, Byrnes noted that some brands have turned to out of the box ecommerce solutions like Magento that include recommendations, or they hire a team of merchandizers to merchandize the website manually just like they do in physical stores. "Manual recommendations don't work," continues Byrnes, "because retailers often run out of manually recommended items. The retailers just can't keep up". 4-Tell's Boost recommendations product solve this problem for retailers because it offers a suite of integrated products for email, mobile, and web.
Founder and CEO of embodee André Wolper played a short video that runs through the company's work with Nike. Wolper demoed the Nike team sports website, which utilized embodee's technology to show how a customer might use the site to purchase customized football uniforms. embodee's 3D images allow users to highlight a section of a garment to see exactly how it would fit on an actual person. This technology solves one of the major issues in apparel ecommerce according to Wolper: fit. Wolper also noted that a lot of consumer dissatisfaction is generated with apparel ecommerce, which is demonstrated by the high rate of return of online apparel purchases.
Both companies have developed key early partnerships with retailers to demonstrate the power of each company's technology. embodee has partnered with Hurley to develop thousands of body scans that help match up only the clothing styles and sizes that make sense of each customer's body. The Hurley partnership has been live on the site for two seasons. Hurley reports that sales are up by 40% thanks to embodee.
The changing landscape of retail is the perfect example of the dilemma of personalization. The lessons that Byrnes and Wolper shared are not only applicable to ecommerce startups, but also to any other app that utilizes recommendations to facilitate purchases of physical goods.