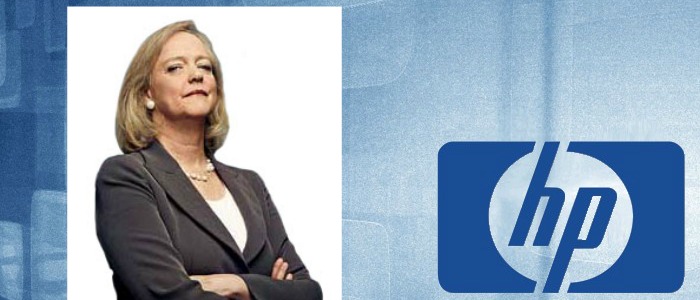 Breaking up is hard to do, especially when you're dumped via video message. That's what HP CEO Meg Whitman did yesterday soon after alerting the media that the company plans to eliminate eight percent of its workforce by the end of fiscal year 2014 to combat declining revenue. HP will cut 27,000 jobs in the form of layoffs and early retirement packages that are estimated to save the company between $3 billion and $3.5 billion by 2014.
In the video that circulated around HP's offices, Whitman introduced a number of reinvestment plans that lie on the road ahead, including:
– Investment in three strategic business areas, including cloud, security and information optimization.
– A focus on design, engineering, quality, and creating demand in the company's PC and printing businesses.
– Increasing software-as-a-service offerings in the cloud.
At the end of the video, Whitman appeals to the HP staff to not lose focus, and to be resilient. Whitman – like a girlfriend trying to let you down easy by promising that "you'll stay friends" – made the layoffs appear to be in the best interest of all parties involved.
Whitman's reputation as a ruthless leader in Silicon Valley preceded her when she took the reigns at HP in September 2011, just as she was getting over her epic failure in the race for the California governorship. As the former CEO of eBay, Whitman is known for outsourcing jobs to cheaper labor pools overseas. She's been called arrogant and untested by some who note that eBay's problems are dwarfed by what she now faces at HP.
Jeffrey McManus, the CEO/Founder of CodeLesson who was a manager at eBay from 2003-2005, quips that Whitman has a reputation for alienating engineering teams and favoring business teams.
While at eBay, she left the technical stuff to lieutenants; she largely walled herself off from the technology. This created a culture where people who worked on the 'business side' often felt like it was OK to either ignore the technical/product side or treat technical staff like peons.
Whitman is also known for her temper. She settled for a confidential six-figure dollar amount after being sued for allegedly shoving and swearing at subordinate employee Young Mi Kim.
While her leadership style might not be most tactful, Whitman clearly has the guts to at least try to save HP before the company starts a slow decent into irrelevancy. HP ranked number 10 on the Fortune 500 list this year, edging up just one spot from number 11 last year. Apple jumped from 35 last year to 17 this year, and may even be slated to take over the top spot in the Computer, Office Equipment industry category from HP in 2013.