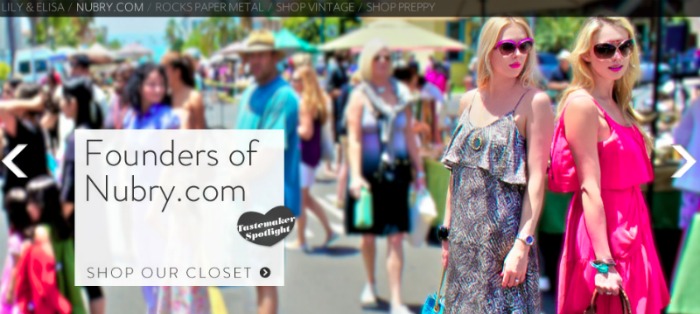 With all of the recent outcry over Mark Zuckerberg's iconic hoodie, you'd think that it was his untouchable cape of awesomeness. His hoodie became the symbol of everything that is wrong with today's youthful internet executives, according to a disgruntled Wall Street pundit anyway. But what if Zuckerberg put it up for sale? Would you buy it?
Clothing resale is the new hot thing in commerce right now, with many startups chasing the goal of becoming the top site for consignment on the web. Companies like Threadflip and ClosetGroupie are helping people earn some extra cash while passing along their most cherished clothing and accessories to people who will love them rather than just dropping them off at a local thrift store. Like most online marketplaces, these startups have a chicken and egg problem where they need items to sell to attract buyers, and buyers to attract sellers. Here's where early adopters come in.
While many marketplace early adopters can elect to sell services or goods, the interesting thing about clothing resale startups is that you can buy the clothing off the early adopters' backs. Since early adopters tend to be friends of startup founders who call in favors to seed the site with data, you might be able to score the lucky sweatshirt of a startup superstar. On Threadflip for example, you can shop from the closets of Nubry.com founders Britt and Gretchen Hackmann, or you can buy the JCrew denim trousers previously owned by TechCrunch's Alexia Tsotsis.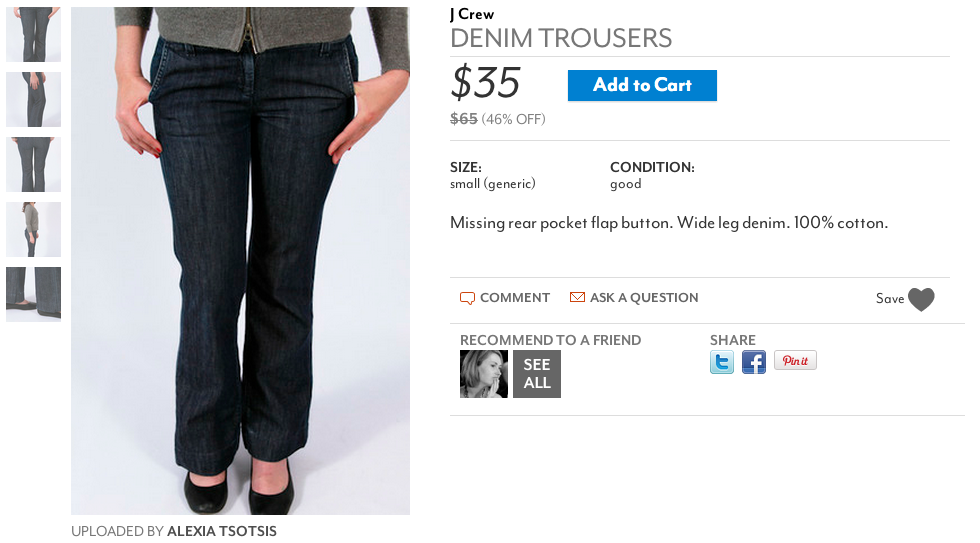 Threadflip makes it extra easy to resell clothing on its site thanks to its white glove service. The company will send users a pre-paid, addressed box that sellers can use to pack and send in their clothes, shoes, bags, and accessories for resale. Threadflip then photographs, lists, prices, and ships the items to the buyers. When the items sell, Threadflip mails sellers a check. Currently, the white glove service is only available to select users.
These new services make reselling your clothing and accessories easier than ever. The biggest issue that these clothing resale marketplaces face however, is hitting scale first. The marketplace that boasts the biggest selection of hard-to-find, beautiful items for resale will win. So far, both Threadflip and ClosetGroupie are attracting sellers with unique items.
A few familiar faces from the startup scene can be found on the TechStars Boulder class of 2012 site ClosetGroupie, including TweetyGotBack founder Heather Capri. Eventually though, the early adopters are going to run out of items to sell. Capri for example only has one item listed: Tommy Hilfiger Polka-Dot Ava Flats. Sites like Threadflip and ClosetGroupie have to attract new sellers to make shopping in virtual closets fun. ClosetGroupie is currently looking to expand it's social reach by hiring a part time social media manager.
Everyone has their go-to uniform, especially in the age of the casual cool startup office anti-dresscode. If you could actually buy the favorite pieces of clothing off the backs of your favorite internet superstars would it creep you out, or would it inspire you to code as you wrap yourself up in Zivity founder Cyan Banister's clothes?