Last week, the Decorah, Iowa natives and creators of The Flaming Vegan launched a unique new book recommendation service called TopBooksFor. Much like the vegan website, TopBooksFor's content is entirely crowd-created, allowing users to view an array of book lists and participate by voting or adding their own favorite books for each category.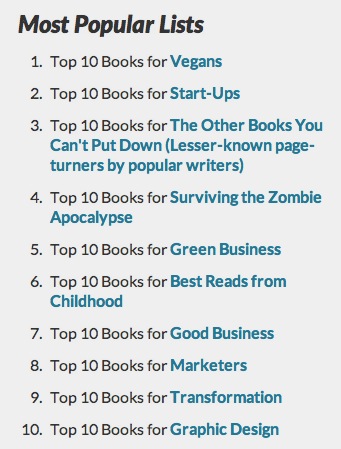 Peter Awad and Jason Trout launched their vegan website with the help of many dedicated users, who not only provide and vote for the content appearing on its front page, but helped to refine the user experience from the beginning. The founders were inspired by the power of crowd-sourcing content, and decided to pair the successful model with their passion for books.
"After seeing [users] in action, we realized that the results from tapping into all of them were far superior to what Peter and I would have or could have come up with on our own," wrote Trout. "We saved a ton of time, effort, energy, and money AND got a much better product out of it. It was a transformative experience… I think the idea just automatically formed in my brain for a crowd sourced Top 10 list of books."
TopBooksFor is an entirely crowd-created service, where users can build lists of the best books for all sorts of people, professions, tastes, and situations. Book lists can be amended by any user who thinks the original creator has missed a valuable title, and each book on the list can be "voted" to show support for its ranking.
Trout admitted he's biased when it comes to his favorite reading list on the site so far: "Top 10 Books for Surviving the Zombie Apocalypse" – a list he created. Another favorite is "The Other Books You Can't Put Down (Lesser-Known Page-Turners by Popular Writers)," a list imaginative enough to surprise even the service's creators. "Like, who saw that coming?" he wrote. "It's what I love about having a crowd-sourced site!"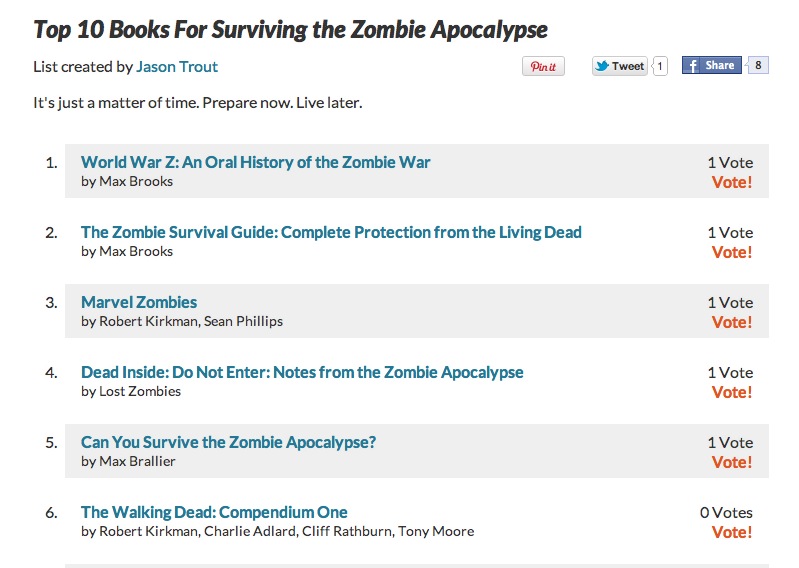 Since the launch of the service last week, TopBooksFor has had several thousand daily page views from a few hundred visitors. Trout said they're seeing a lot of "lurkers," or users who spend time reading content but do not participate in creating it.
The company is hoping to encourage users to make an account and become active in the community by providing general registration, as opposed to its Facebook-only login from before. The decision to move away from a Facebook-only login was another lesson learned from their previous venture.
"Only 3.9% of people for [The Flaming Vegan] were using Facebook to register… by only offering Facebook registration we were, in effect, discouraging about 96% of the population from signing up," Trout wrote.
In the future TopBooksFor hopes to create monetization opportunities by providing advertising space for authors, reading lists sponsorships for companies, and subscription-based book discussion groups, on top of the affiliate network links to Barnes & Noble and Amazon its currently using.
The creators recognize TopBooksFor as a minimum viable product in its current state, but the pair hope to soon add new features, including topic-based book groups, book and recommendation lists, and simplifications to the list-building process.
If you're bursting at the seams with must-read book recommendations, head on over to TopBooksFor to share them in list form with the world. Just remember to not be a lurker.