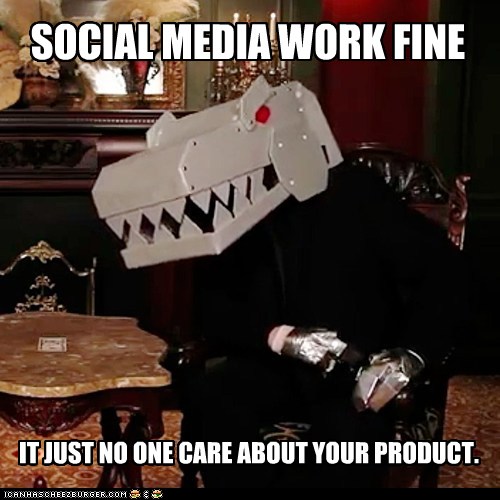 The startup scene's newest celebrity isn't a teenage CEO or a member of the Facebook mafia. Instead, the most sought after startup superstar is a robot dinosaur called FAKEGRIMLOCK. Weird? Yes. But even weirder is that the person behind the character is surprisingly wise about his startup advice.
Although few know the real person behind FAKEGRIMOCK, the word is out that he works and lives in Washington DC. He started appearing in the comments section of popular tech blogs, and soon developed his own following on his website. FAKEGRIMLOCK is so popular that he recently raised over $22,000 for a Kickstarter project showcasing his drawings about startup life. I wanted to know how a dude who tweets in caplocks about subjects like lean startups could leverage so much social capital in a relatively short amount of time, so I jumped at the chance to interview him.
When I first got in touch with FAKEGRIMLOCK, I was convinced that I wanted to know the person behind the dinosaur. But after exchanging emails, I wasn't so convinced that revealing his identity would be the best thing that I could discover about him.
What I was most curious about was how he landed thousands of dollars in funding despite having a hidden identity.
K.H.: How is a robot dinosaur able to raise over $22,000 on Kickstarter when so many artists' projects go unfunded?
FG: HOW ME RAISE GIANT BUCKETS OF CASH FOR JUST PAPER WITH INK ON IT? IT SIMPLE.
FIRST, ME MAKE THINGS PEOPLE WANT. IT FUNNY. WHEN MAKE THINGS NO ONE WANT, NO ONE WANT THEM.
SECOND, ME NOT DO KICKSTARTER FOR ME. DO FOR THEM. $25 GET YOU 9 POSTERS, 3 SHEETS OF STICKERS, 1 T-SHIRT. COST TO SHIP THAT $10. IF LIVE ACROSS OCEAN, $30.
PEOPLE NOT DUMB. THEM KNOW WHEN PROJECT ABOUT MAKE SELF FEEL AWESOME. ME PROJECT MAKE EVERYONE ELSE FEEL AWESOME. THAT WHY IT SUCCEED. YOU HAVE ART PROJECT ON KICKSTARTER, WANT GET FUNDED? BE LIKE GRIMLOCK! MAKE FOR THEM!
In human speak: Make your kickstarter project something that will delight fans. You'll never raise money for your self-indulgent art project.
K.H.: Name three startups that are doing it right and three that are doing it wrong.
FG: ENGAGIO. THEM TAKE COMMENT ON BLOG, BUILD MVP IN FEW DAYS, ITERATE LIKE MAD, SCALE TEAM AS GO. THAT HOW IT DONE.
DISQUS. THEM TURN ENTIRE SERVICE INTO MASSIVE A/B TEST TO BUILD NEXT VERSION. THAT TAKE GUTS. HOPEFULLY IT ALSO FIX BUGS. ME, GRIMLOCK, DASHBOARD STILL BROKEN.
TWYLAH. THEM BETTER TWITTER FOR MASSES THAN TWITTER. MAKE LOOK AT SOMEONE STREAM ACTUALLY INTERESTING. STILL NEED GOOD MONETIZATION ENGINE THOUGH.
THREE DO IT WRONG:
CANVAS. MOOT GOOD GUY, BUT HIM BUILD BETTER VERSION OF PINTEREST BEFORE PINTEREST EXIST, LET IT GET TURNED INTO LESS FUNNY VERSION OF 4CHAN. IT BIG MISSED OPPORTUNITY. AT LEAST TECHNOLOGY GOOD, MAYBE FACEBOOK BUY THEM.
TUMBLR. THEM DO GREAT JOB OF SCALE TECHNOLOGY. TERRIBLE JOB OF DO ANYTHING INTERESTING WITH IT. WHOLE THING STAGNANT FOR YEARS, NO SIGN HAVE REAL PLAN TO MAKE MONEY.
PRISMATIC. ME HATE SAY THIS, BECAUSE THEM DO LOTS RIGHT. UX GOOD, PERSONALITY GOOD, SITE WORK GREAT. IT ALSO TOTALLY BORING. IDEA OF CREATE NEWS FEED FROM TWITTER BRILLIANT. RESULTS SO-SO. MAYBE WHAT REALLY NEED IS TELL GRIMLOCK WHICH FOLLOWERS LINK TO ONLY BORING STORIES, SO ME CAN UNFOLLOW THEM.
In human speak: Don't be boring. Take risks and experiment, but have a revenue plan.
K.H.: You mentioned that Twylah is a startup that is doing it right. I notice that you tweet about how awesome Twylah is a lot and your Twylah page is pretty pimped out. Do you have a connection the Twylah team at all?
ME, GRIMLOCK, NOT HAVE ANY CONNECTION TO TWYLAH. THEM JUST HAVE SMART TEAM THAT WATCH TWITTER, REACH OUT TO GRIMLOCK. THAT RIGHT WAY DO MARKETING. FIND ENGAGED USERS, TURN THEM INTO BIG FANS.
PAGE LOOK AWESOME BECAUSE @mskrys MADLY IN LOVE WITH ME, GRIMLOCK, VOLUNTEER TO DO. IT KIND OF THING HAPPEN TO ME LOTS.
In human speak: When you are doing good things in the startup community, people will help you out. When you are doing stupid things in the startup community, people won't want to help you out.
K.H.: It seems like many people wish they could say the brutally honest things you say about the startup scene. Why do you think people aren't as honest as you?
FG: WHY NO ONE IN STARTUP WORLD HONEST LIKE GRIMLOCK?
BECAUSE ONE PERSON KNOW WHO ME, GRIMLOCK, REALLY AM. ME.
ME SUCCEED BIG IN LIFE. FAIL BIG. TOMORROW EITHER ONE, NOT MATTER. ME STAY SAME. NOT NEED WORLD TELL ME, GRIMLOCK, IF GOOD. NOT CARE IF WORLD SAY ME RIGHT. ME ALREADY KNOW ANSWER.
OTHER PERSON IN STARTUP LET WORLD TELL THEM WHO ARE. DO WHAT WORLD SAY. WORLD NEVER ASK FOR TRUTH. ONLY WAY TO GIVE WORLD TRUTH IS NOT CARE WHAT WORLD THINK.
In human speak: Too many people care what others in the startup scene think of them. Not many people are true trailblazers. To succeed, you can't care what other people think of you. Do something original.
K.H.: How are you so on point with your observations? What is your experience with startups?
WHY ME UNDERSTAND STARTUPS?
BECAUSE DO THEM.
FOUND STARTUPS. WORK FOR STARTUPS. SEE STARTUPS WIN. SEE STARTUPS FAIL. LIVE WHOLE LIFE AS STARTUP.
IT NOT JOB. IT CODED INTO DINO BRAIN. OTHER PERSON BREATH AIR. ME, GRIMLOCK, STARTUP OXYGEN.
In human speak: To have relevant insights about the startup world, you can't sit on the sidelines. The only way that you can really know about this business is to dive right in.
K.H.: What has been your biggest win? What has been your biggest fail?
BIGGEST WIN SO FAR IS CONQUER TECH STARTUP WORLD AS GIANT ROBOT DINOSAUR WITH NO BUDGET, DO ONLY IN FREE TIME, USE ONLY FREE TOOLS. ME ALL ABOUT DO THINGS NO ONE SAY POSSIBLE.
BIGGEST FAIL? IT PROBABLY THAT ONE TIME BUILD THING BETTER THAN TWITTER, COFOUNDERS DECIDE TO CLOSE COMPANY INSTEAD.
K.H.: Who are you – no, really?
FG: WHO ME, GRIMLOCK?
JUST SOME GUY. SOME GUY THAT ALSO GIANT ROBOT DINOSAUR PUNCHING WORLD IN FACE WITH TRUTH.
WHAT ELSE NEED KNOW? NOTHING. WHO GRIMLOCK NOT IMPORTANT. WHAT SAY IMPORTANT. THAT WHOLE POINT OF ME, GRIMLOCK.
In human speak: Stop trying to find out who FAKEGRIMLOCK is, because FAKEGRIMLOCK is the character that we all know is right, but we are too stubborn to admit it.
K.H.: I wanted to find out your identity, but now I think that it's better for the startup  community that you remain anonymous. Here's why: so many people in the startup community are judged based on their name recognition and past wins/failures. People troll comments and give personal attacks. But when people comment on your site, the comments are actually insightful and constructive because you don't have an identity to judge. What do you think about this?
THAT WHOLE POINT OF WHAT ME, GRIMLOCK, DOING.  BE STUPID HUMAN MEAN WORDS COATED IN LAYER OF BIAS. DISTORT TRUTH OF WHAT SAY. ME, GRIMLOCK, EMPTY PAGE INSTEAD. CAN DRAW WHATEVER WANT ON PAGE, WORDS STAY TRUE.
BUT THAT NOT MAIN REASON ME, GRIMLOCK, GET GOOD COMMENTS. ME HAVE TWO RULES FOR SOCIAL MEDIA:
I. REWARD AWESOME
II. IGNORE STUPID
IT AMAZING HOW FAST STUPID GO AWAY WHEN NOT FEED IT.
In human speak: Don't feed the trolls.
He's right. The perfect thing about FAKEGRIMLOCK is that as a fictional character, he's more effective. His blog posts draw more comments than many TechCrunch stories, and the comments are mosty constructive. Too often in the tech scene, arguments arise from preconceived judgments that people have about each others past failures and wins. Just because someone was lucky enough to get in on an early round at Twitter, we treat their advice as gold. Similarly, the startup scene doesn't listen to new voices who are emerging as dissidents when they don't parrot the party lines about how social/local/mobile is going to change the world for example.
When I first emailed FAKEGRMLOCK, I was determined to find out who he is. Now, I'm not so sure that I want to know. The ambiguity of his identity is opening up fair and honest dialogue in the startup community that just would't be that same if we could all judge the past wins and failures against his opinions about startups.
Image courtesy of icanhascheezburger.