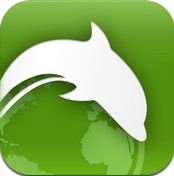 Dolphin, a popular browser, formerly only for Android devices, launched on iOS devices in late August 2011. The mobile web browser has had continued success on Android with more than 8 million downloads. Dolphin offers gesture-based browsing to simplify the browsing process on mobile devices. Gesture-based browsing allows you to create specific gestures that link to saved websites. Drawing a smiley face could take you to Tech.li, for example. One major difference between the iOS and the Android versions is that you now must tap the screen before drawing any gestures.
Dolphin focuses on efficient browser functionality. Dolphin Webzine allows websites with RSS feeds to be viewed in a Table of Contents-like display. Once in the webzine display, you can quickly tab through story summaries and can select one to read.
Though it is no longer a novel feature, Dolphin was one of the first browsers to support tabbed browsing on mobile devices. It better utilizes screen space by removing browsing features from the main display; swipe to the right on the screen to access the tab bar, and swipe to the left to access bookmarked sites.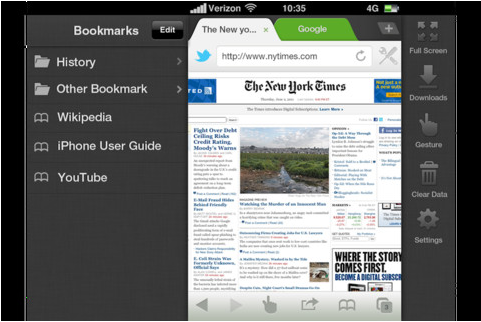 Third-party browsers on iOS devices must contend with Safari, the only native browser installed by Apple; any link that is opened from e-mail on iOS devices automatically opens in Safari. If Apple users don't mind this hiccup, Dolphin can grant them access to a whole new browsing experience.
You can download the browser at either the App Store or Android Market.
Here is a video from the people at Dolphin advertising the features: