On Wednesday, social product rating service Consumr announced the launch of its new iPhone app – a mobile platform which the company hopes will allow users to identify the best brands and products as they peruse the aisles of their local grocery and drug stores.
Consumr was launched less than a year ago by Ryan Charles, who was the former head of Zagat's mobile division. The service has grown into a robust community of both amateur and expert brand reviewers working in a democratic system to bring to light the best products tucked away in your local supermarket. The website covers everything from beer and condiments to body wash. Consumr has been called "a yelp for consumer goods," and with 100,000 ratings to date the service is well on its way to earning the title.
With the launch of its iOS app, Consumr gives shoppers the power to quickly and easily look up reviews of the products on the shelf in front of them. The mobile app allows you to search by categories like groceries, personal care, and household items, and even take a snapshot of a product's barcode to quickly find the information you're looking for. The social components of the service enable the indecisive shopper to see what products other users are currently talking about, and even consult your friends through the website to get truly trusted recommendations.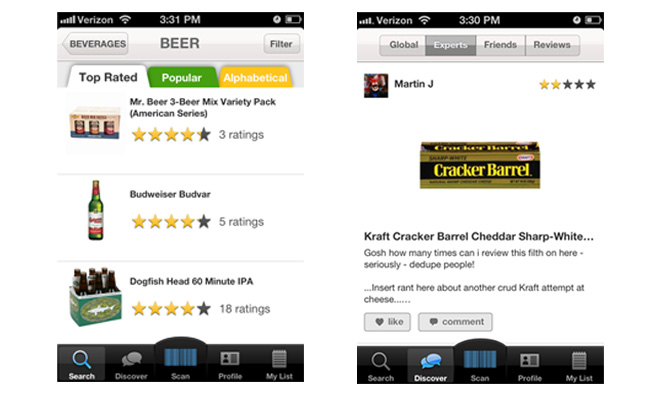 "With so many options in the supermarket, it's easy to buy the wrong product or a disappointing one. Our app is a quick and easy way to make the right choice," Charles said in the Consumr press release. "We're happy to make the lives of shoppers everywhere a little bit easier."
Utilizing its rating service, Consumr has even gone so far as to create a list of the top 100 most popular products in the U.S. Unsurprisingly, the list was topped by the infinitely delicious Nutella spread, which will one day replace butter as the topping for all things. Environmentally friendly floor cleaning product Wood For Good took the title of highest rated product within Consumr's service.
The mobile app is now available for free on the App Store, so be sure to have it at the ready next time you find yourself in the heart of the bodywash aisle, staring into the flowery abyss.