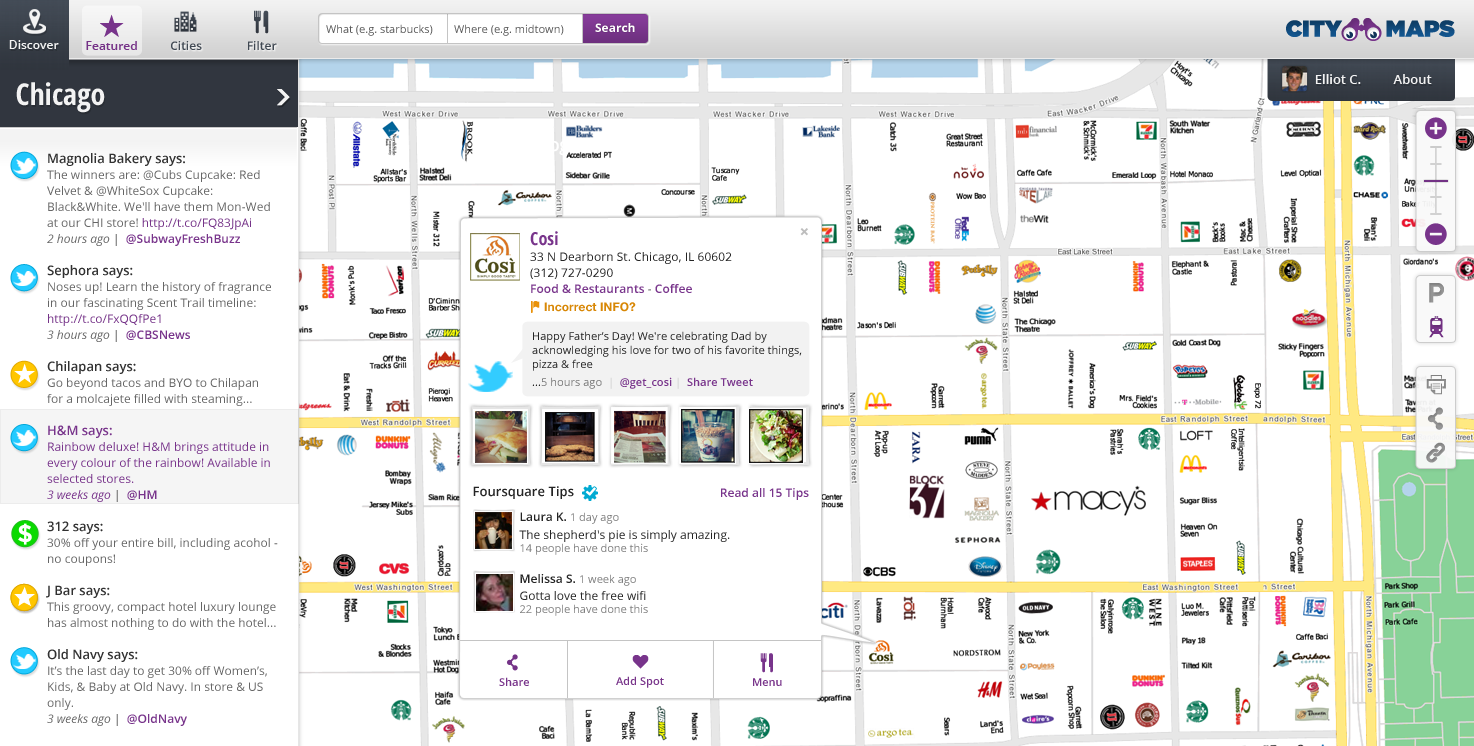 After adding Boston last week, social mapping startup CityMaps has expanded the service into the Chicago area. Chicagoans can now see a variety of landmarks and social information on a single map, at home and on the go.
On top of providing storefront and infrastructure information like parking garages and public transit times, CityMaps aggregates social information from Tweets, daily deals, Foursquare tips, OpenTable reservations, Fandango showtimes, and more to help you discover everything there is to do in your city.
CityMaps was founded in 2010 by Elliot Cohen and Aaron Rudenstine. "We decided that online maps needed more life," said the CityMaps founders. "With traditional online maps you first have to know your destination… CityMaps is different. It helps you discover, browse, and share new destinations, activities, or events that you didn't even know about."
After closing a Series A round of funding at $2.3 million in 2011, the pair launched a private beta version during the summer of last year. CityMaps went public for the first time at this year's SXSW.
"We surpassed our monthly growth totals in the first week and we've seen incredible growth and adoption in the following months," the founders said. On average, active users on their web app spend about 33 minutes searching the social map during each session.
"Bringing in the best social content from around the web and putting it directly onto our map completes the transformation from simple navigation tool into interactive social platform," the founders said.
When it comes to monetization, CityMaps has become a very useful platform for local businesses to unobtrusively reach out to potential customers looking for things to do in the area. "We're currently generating revenue via major business development partnership, where firms want to build upon an alternative map to Google, one that has social dynamics in its DNA and local businesses are front and center," they said.
Chicago will be the company's fifth socially mapped city, joining New York City, Boston, San Francisco, and Austin. According to the CityMaps website, Milwaukee and Las Vegas will be the next cityscapes to get a social makeover.