A new crop of startups have emerged to dethrone certain industries that have gone seemingly unchanged for decades. Before Drudge Report or The Huffington Post, the newspaper industry was the reigning media king, a staple of society, for nearly a century. The same can be said for the way E-books revolutionized the book publishing industry. Behold a new crop of disruptive startups out to revolutionize traditional industries in a big way:

Company: Meridian
Industries disrupted: Retail, Healthcare, Convention Centers, Airport, Malls
Ever go to a hospital and get lost immediately? You are not alone. Portland-based software maker Meridian is one company who is disrupting the traditional healthcare industry in a big way. "[Meridian] is allowing hospitals to inform and engage their visitors through our indoor mapping technology," says Kiyo Kubo, Meridian's co-founder. "This leads to improved visitor satisfaction and efficiency for hospitals."
Meridian's platform has been adopted across a wide variety of industries. Their signature enterprise tool is already used by retail stores, hospitals, parks, stadiums and convention centers to provide visitors with turn-by-turn navigation. The company's goal is to enable locations to engage their visitors, eliminating the likelihood of getting lost while providing useful information about surroundings inside a given location. Along the way, Meridian uses visitor behavior, preferences, and traffic info so locations can better gear future services to fit the needs of their customers. As an emerging technology, expect more disruption from Meridian in other industries when the service expands to resorts, airports, and malls in the full force later this year.
——————————————————————————————————————————————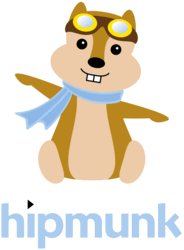 Company: Hipmunk
Industries disrupted: Flight search, Hotel search
At first glance, Hipmunk does not offer any more data than what you could find on competitors like Expedia or Kayak. But like any ritzy restaurant, it's all in the presentation. Founders Steve Huffman and Adam Goldstein founded Hipmunk to take the "agony" out of flight search. Instead of lists of largely irrelevant search results, Hipmunk's visual results page delivers the best flights available ranked by price, duration and layovers. Just as disruptive, it's beautiful iPad app offers a useful hotspot tool to pinpoint the best lodging locations near food, bars, nightlife or attractions.
Ashton Kutcher and Ron Conway saw the potential in Hipmunk when they invested in the SF-based startup in 2010. After closing a $15M Series B round of funding last month, the cute little chipmunk is ready to take the agony out of international travel, too.
——————————————————————————————————————————————

Company: PocketGuide
Industries disrupted: Travel Guidebooks
The ubiquity of smart phones is leading to the extinction of the traditional travel guide book. Why lug around a heavy, out-dated guidebook when you can access that same travel advice on your mobile phone? However, not all travel guide apps are created equal. Newcomer PocketGuide acts more like a local tour guide, directed by GPS, giving users turn-by-turn navigation. The award-winning app seamlessly guides you by voice through themed tours in 78 cities around the world.
While competitors like Lonely Planet and Rough Guides exist, PocketGuide tours will work without Wi-Fi or cell phone service. This is a huge advantage for Americans traveling to Europe wanting to avoid hefty roaming charges.
About the Author: Ryan Croft is an entrepreneur and founder of Croft Global Travel, a custom travel planning service and adventure operator based in Arlington, Virginia.