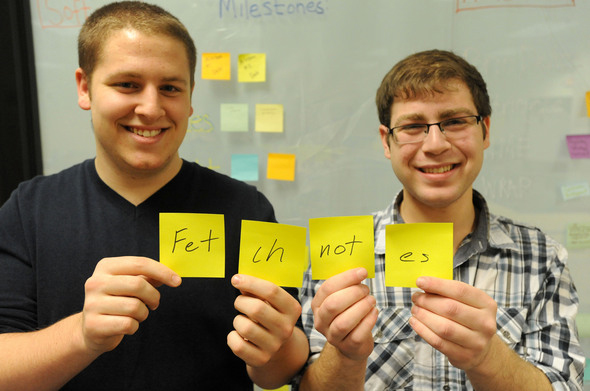 Fetchnotes co-founders Alex Schiff and Chase Lee / Image credit: AnnArbor.com
Fetchnotes, the most simple mobile note taking app around, has gone through some considerable changes since we last covered it in May. The app was created by Alex Schiff and Chase Lee, two University of Michigan students who consistently found themselves dissatisfied with the clunkiness of the note taking apps on the market today. With its slew of new features, Fetchnotes makes it even easier to make your straightforward notes work for you.
The biggest new feature the team has added is the ability to share notes with a group of friends or coworkers — an addition that the team refers to as "dead simple sharing." Using hashtags and mentions similar to Twitter, the app enables users to add basic notes to other user's to-do lists. "It's our major focus right now," said Schiff. "It's cut down 90 percent of the email we send to each other as a team because we just add things to each other's lists."
In addition to sharing, Fetchnotes has introduced integration with fellow mobile note taking app Evernote, enabling users on both ends to organize their notes through hashtag categories. Fetchnotes has also become a featured partner of Box OneCloud, providing extended cloud integration to its Android app. Both the web app and the Android version have received major design improvements over the recent months, which the team promises will be coming to the iOS version soon.
Last month the Fetchnotes co-founders serenaded their users with Neil Diamond's "Sweet Caroline" to raise money for server costs. The fundraiser was so successful the team secured enough to run its servers for nearly an entire year. "I'm out in San Francisco right now and random people I meet have known us from this," Schiff wrote.
The CEO said the app is closing in on 18,000 users with equally "crazy engagement stats," and considering all the new features the team has been implementing over the past few months it's not hard to see why. Fetchnotes is still available for free on iOS and Android platforms, so give it a spin if you've been feeling neglected lately by your current note taking app.