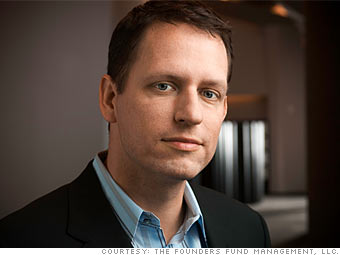 Blueseed has announced that PayPal co-founder Peter Thiel is going to be leading their round of seed financing, helping them produce the world's first floating, visa-free startup incubator in international waters off the coast of San Francisco.
From Blueseed's website:
"Because of the United States' current immigration and regulatory regime, bold and creative entrepreneurs from around the world aren't given the chance to come to Silicon Valley and develop the technologies that could be creating jobs and propelling the economy forward.

Blueseed aims to solve this problem so that Silicon Valley remains the world's center for innovation. Our team is creating a high-tech visa-free entrepreneurship and technology incubator on an ocean vessel in international waters. Our facilities will be a short ferry ride away from Silicon Valley so that great ideas and talent from around the world can live, work, and play while having convenient access to the San Francisco Bay Area. We will provide a customized environment centered around smart, proven, cost-effective legal best practices, and modern living and work accommodations."
This is not entirely surprising as Blueseed CEO Max Marty was also the former Director of Business Strategy at the Thiel co-founded Seasteading Institute. An avowed libertarian, Thiel has long championed the idea of creating floating micro-nations in International waters as a place to try out "start-up governments." It looks like Blueseed offers the perfect opportunity for him to soft-launch his idea and have it validated by Silicon Valley.
Startups will be able to live on the ship and have access to high speed Internet, office space and access to "24 hour venues around the ship, catering, cafes, full service gym and other entertainment venues." Prices for living on the ship are expected to start at $1200 per person for the basic accommodations, and Blueseed touts the cost of living on-ship as a big positive when compared to living in San Francisco: They quotes an average studio apartment price of $1,750 in The City, along with a $400-$600 desk rental fee at an incubator.
Travel to land will be by twice a day ferry with an estimated travel time of ninety minutes to the mainland and there will also be a helicopter available for emergency transport if needed. If/when businesses outgrow the center, they can move back to the mainland and rent office space in Silicon Valley.
The most significant advantage of Blueseed applies to immigration laws.  Since Blueseed will reside in  international waters, the aquatic incubator can welcome international entrepreneurs without requiring the otherwise necessary visas. Entrepreneurs that previously lacked access to the Silicon Valley's resources due to the US' visa-restrictions can be located right next to the startup epicenter and easily conduct business there while living just offshore.
The below images depict  BlueSeed's concept vessels.