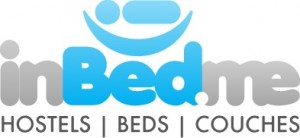 Connecting the adventurously grungy world of hostel-hopping international travel to the social web seemed like a colossal task. Most hostels have outdated systems or just use pen and paper to register guests, making it difficult for people staying in them to make new friends with fellow travelers in foreign lands.
InBed.me is a social booking site for hostels as well as privately owned beds and couches. Believing its not "just about where you travel, but who you meet," inBed.me provides social tools so travelers can meet with like minded travelers on their trips.





I met founder Diego Saez-Gil at InBed.me's office at the (nearing ubiquitous) General Assembly co-working space on the morning of their launch party being held at NYC's biggest hostel (more on this later). His Argentine accent started at a manic full-throttle and barely paused during an hour long ping-pong conversation. He started by expressing genuine appreciation for the power of the internet to connect people with opportunities across geographies, exemplified early in his career by obtaining a scholarship to the prominent Universidad Nacional de Tucuman in Barcelona from the small town of Concepcion where he grew up.
Finding time to travel the globe between corporate consulting gigs, he eventually decided that bringing independent travel to the modern web was his calling and settled down in the States to found Off Track Planet (OTP), which is essentially a web-based version of the more paper-centric Lonely Planetguide books. Although OTP has been a moderate success, Diego realized there was more money to be made helping travelers book online.
The patchwork of affordable, welcoming hostels dotting the international landscape of popular travel destinations lacked a social platform for matching them with their road conquering clientele. The idea was appealing, but he needed a co-founder who could bring his vision to life.
Alex Torrenegra is a serial startup CTO involved with a number of voice and travel-related ventures who  met Diego by chance at a barbecue hosted by Andres Barreto from OnSwipe and attended by a who's who of Latin American startup talent around NYC. After some enthusiastic tinkering with the concept for a social hostel booking engine, the two entered inBed.me to Startup Weekend New York and their final pitch presentation was so well received that they decided to give it a go full time (something Diego says the majority of participants of Startup Weekend fail to do). They leveraged this momentum and their own connections to raise an undisclosed amount from international angel investor heavyweights like Fabrice Grinda, Alec Oxenford, Ariel Arrieta and James Haft.
The platform works like this:
Sign in through Facebook, or create a custom travel profile.
Search through a growing database of hostels (with more on the way through a potential partnership with a major competitor).
Check out their 'social value' through past visitor reviews.
See who else is planning to stay during your prospective visit.
'Future Check In' indicating you plan to be there too.
Book your stay.
Network with other travelers to make plans for when you're in the same place (with an Events feature coming soon).
With online travel being a $26B industry and hostels representing $1.4B alone, inBed.me stands to monetize fairly well off their 10% cut of booking charges. Diego divulged that they've drawn inspiration from similar companies, admiring the active CouchSurfing community and strong product design of Airbnb. Another tidbit I enjoyed is that the company name is a riff on John Lennon and Yoko Ono's Bed-In for Peace in 1969.
The launch event alluded to earlier was held at Hostelling International — New York on the Upper East Side with 350 travel industry and press registered attendees intermingled with the night's lucky hostel residents, drawn in by the allure of free wine, beer and door prizes. It was an eclectic crowd, comprised mostly of what I imagine to be the Latin American and European 'jet-set on a budget' types, with most people one item of clothing short of a hiking excursion. More than anything, I admired the event because it was hosted in the heart of their core user base. Most web startups launch at tech conferences in front of other geeks who go right back to promoting their own projects and bombarding investors the moment speeches are over. These guys convinced a crowd of early supporters to come out on a weeknight and promote their platform to friends who will do the same. After all, as Diego is fond of repeating, "Travel is about people, not places."