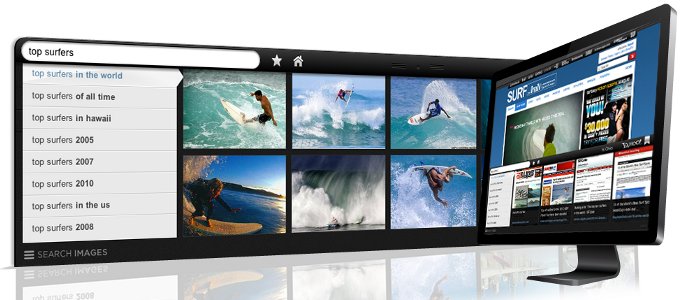 The web may be littered with the husks of failed browsers, but struggling search outfit Yahoo! is tossing its hat into the ring nonetheless, with a "search browser" seemingly aimed mainly at mobile platforms, but also available as a plugin for popular desktop browsers.
Yahoo! Axis was designed around a slick interface that, like recent versions of Google, updates results as they are typed. And like Google's Knowledge Graph, it updates certain information – like weather queries – as data, not web results.
"Our search strategy is predicated on two core beliefs – one, that people want answers, not links and two, that consumer-facing search is ripe for innovative disruption," said senior vice president Shashi Seth, in a press release for the browser. "With Axis, we have re-defined and re-architected the search and browse experience from the ground up."
Key to Yahoo!'s vision for the browser seems to be that search queries come up as thumbnails – a trendy design choice for touchscreen devices, but one that may make serious web research a frustrating process.
"Axis gives people instant answers and visual previews so they can continuously discover and explore content without interruption," reads the release. "Axis' sleek design keeps people moving forward rather than constantly returning to a page of endless blue links. Once on a search results site, Axis also lets people simply swipe or click to the next result."
In a strange graphic design choice, a promotional image for the browser shows a prominent advert and what appears to be a scantily-clad woman (see top image.)
The move isn't without precedent. Yahoo!'s competitor Google – which has maintained a steadier image and product line during the last decade – released the Chrome browser in 2008, which has quickly risen through the ranks to enjoy massive success.
It's based on search, the company's flagship product. And like new versions of Chrome, Yahoo! has emphasized that Axis syncs content across devices and platforms.
The parallel is far from perfect, though: While Axis runs as a standalone app on iOS devices, on desktop computers it is available only as a plugin for other browsers, including Chrome – a quirk that may itself cause some confusion, not the least because spammy search bars are notorious traps for inexperienced users.
Yahoo! also seems to be taking stylistic cues from Apple, with a video promoting the browser that features a white background and a fashionably-dressed spokesperson who says the browser "completely redefines what it means to explore the web."
Image: Yahoo!