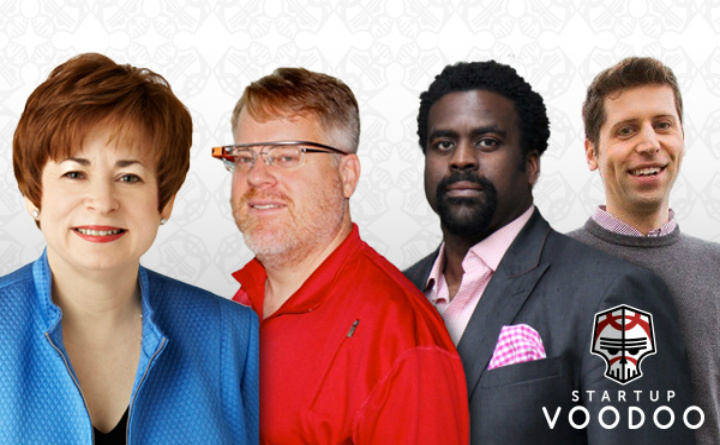 Y-Combinator President Sam Altman will be heading up an all star cast of speakers for Startup Voodoo 2015.
"I'm excited to come home to St. Louis and speak at Startup Voodoo," said Altman who leads what is generally regarded as the leading seed-stage accelerator in the world, Y Combinator. "St. Louis will always be home for me, and I'm thrilled to see how much the startup scene is growing."
Taking place June 18, 2015 at the Hotel Lumiere in St. Louis, Altman will be joined by Silicon Valley heavyweights Robert Scoble from Rackspace and Erik Moore from Base Ventures.  Rounding out the St. Louis Silicon Valley Invasion is Maxine Clark, founder of St. Louis success story Build-A-Bear
"As an entrepreneur who's seen her business grow into a global enterprise, I'm thrilled to participate in Startup Voodoo as it's so rewarding to see such tremendous interest in entrepreneurism," said Build-A-Bear founder Maxine Clark. "But we need to see more women venture out and start businesses, and that takes a collective effort. I continue to mentor aspiring female entrepreneurs to join in our growing economy."
Arch Grants 2015 Summer Cohort To Be Announced
Joining Startup Voodoo this year, St. Louis startup competition Arch Grants will be
announcing the recipients of its 2015 Summer Cohort. The recipients will each be granted a non-dilutive $50,000 cash grant in return for the startups locating their businesses in downtown St. Louis.

Arch Grants has played no small part in the continuing transformation of downtown St. Louis into a major Midwestern startup base. "We are thrilled to partner with Startup Voodoo to introduce our first cohort of 2015 Arch Grant recipients," said Ginger Imster, executive director of Arch Grants. "Our partnership with Startup Voodoo reflects a shared vision to make St. Louis the Midwest's hub of entrepreneurship."
Startup Voodoo's 'Most Promising' Competition Continues
Startup Voodoo's second "Most Promising" Midwest Startups award will continue on 2014's program – nominees must follow a four-pronged criteria of being Midwest-based, fewer than two years in operation, less than $150,000 in capital raised, and operating in digital technology, biosciences, or agricultural technology. In 2014, more than 100 companies were nominated and Chicago-based LearnCore (Learncore.com) ultimately was selected by a three-judge panel as the winner.
"Startup Voodoo was an amazing experience for LearnCore and me personally," said LearnCore founder Vishal Shah. "We were able to showcase our company, win the award, and meet amazing people. But the best came afterwards, where an attendee became a new customer and are continuing to work on a partnership with a large corporate client there. It has truly made an impact on our business and I am thrilled to have been a part of it."
Acclaimed Silicon Valley Journalist Tom Foremski will be interviewing one of the Learncore founders at SV 2015 so they can share how their business has changed since winning,
Startup Voodoo 2015 Features:
Scheduled for June 18 at Hotel Lumiere in downtown St. Louis, Startup Voodoo 2015 (StartupVoodoo.com) also features:
• A Q&A with Deb Barta of Simplify Commerce by MasterCard about emulating the startup mentality and innovating inside large corporations;
• A panel with CEOs of startups who's technologies are being leveraged by large corporations to deliver messages to varying audiences;
• A conversation with leaders of top startup accelerators in the Midwest.
• A discussion with several entrepreneurs who are changing the face of cyber security;
• And pitches from the top 3 "Most Promising" Midwest Startups.