In a blog post this week, Yusuf Mehdi, Chief Marketing Officer of the Xbox team at Microsoft, detailed the continuing success of the nearly seven year old console. The Microsoft employee specifically attributes the growing number of uses for the media hub for its unusually strong sales numbers.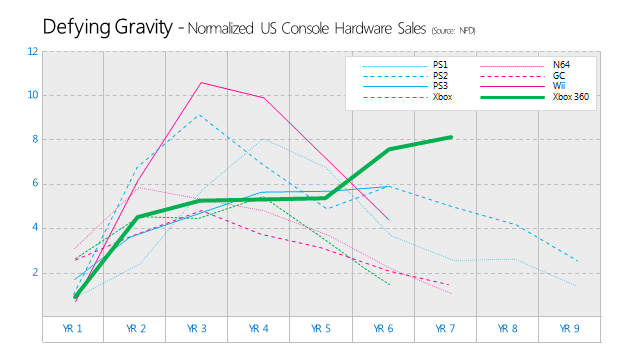 Mehdi recently joined the Xbox team after spending many years working on Windows, Internet Explorer, and Bing. The employee said the transition has given him a "fresh perspective" on the Xbox's success. "The Xbox has transcended from a gaming console to a broad entertainment device," he wrote.
He credits this transcendence for the consistently climbing sales of the Xbox – an unusual statistic for any game console, especially one that's almost seven years old. To date, Microsoft has sold more than 67 million Xbox 360 consoles and secured almost 50 percent of the home gaming market in the United States. The console saw the biggest spike in sales right around the time it added Netflix, its first video streaming app. Mhedi wrote that current Xbox Live subscribers spend 84 hours each month playing games and streaming content on the console.
"To date, our success has been led by a box in the living room," he wrote.
Mehdi even went on to hint at some upcoming technology that will be unveiled at this year's E3 conference, briefly touching on the evolution of media beyond the TV screen – specifically on tablets and smartphones. The blog post hints at some kind of Windows 8 integration, though the Microsoft employee is understandably short on details.
"We've got ideas for making all the entertainment you love more personal, interactive and social across the devices you love," he wrote. "You'll see some of that next week."
Microsoft's E3 show is set for June 4th at 9:30 am EST. Stream it live on the Xbox website to find out what's in store for the ever-evolving media box.