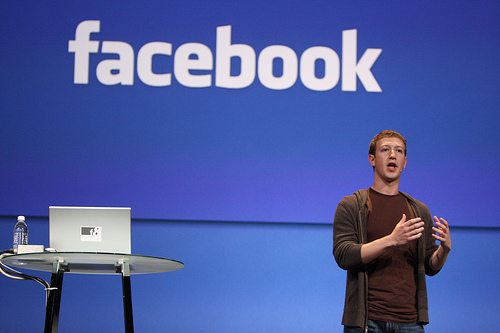 Facebook founder Mark Zuckerberg has a vision for the web that reminds me of the future set forth in Steven Spielberg's loose adaptation of Philip K. Dick's "The Minority Report." In the movie, retailers are able to gather all of one's personal information from retinal scans, thus gaining the ability to cater specifically to the individual. Zuckerberg's focus is to relate the web to people's social networks.
In a December article, Financial Times writer David Gelles quoted Zuckerberg's speech at a November press conference.
"You care so much more about your friends. It's not an intellectual thing," Zuckerberg said. "It's hard-wired into humans that you need to focus on what the people around you are doing. It's this very visceral, deep thing."
We are starting to see how the power of one's social network will, as Zuckerberg is counting on, change the world of online shopping.
Microsoft's Bing search engine added "like" to its capabilities in May of this year. Google is now venturing into Microsoft's territory by creating software and hardware and has made Microsoft and Facebook natural allies.
The hope here is that seeing a "like" on a specific product will function just the same as a person bringing a couple friends with them to buy some new clothes. Those friends are there to approve and comment on the product. With such a large percentage of the general public on Facebook, online shoppers can theoretically get a better feel from their social networks for the products they buy.
This move gives Facebook more visibility on the web, but alone it doesn't necessarily give them an edge. That is where Facebook Deals comes into the picture. Many people believe that Deals is nothing more than a Groupon clone. There are many obstacles for the program to overcome if Facebook wants to corner the market.
Since Facebook is not considered an industry expert for offering product and service discounts, as Groupon is, there is going to have to be some persuading done on the part of Facebook to enter the "daily deals market". Facebook still has the advantage of a 750 million person user base, so even if a small percentage of users are early adapters, if the feedback is good, word of mouth can grow Deals.
As such a large venture on Facebook's part, the only way Deals can really succeed is if the company hires a good number of employees to run this feature. Groupon currently has more than twice the employees than Facebook does.
My bet is that Facebook will make a big push for Deals to work since it fits in perfectly with Zuckerberg's vision of Facebook as the hub of the public's online life. For now it is only available in a handful of cities, but there are plenty more reasons why Facebook is pushing Deals to succeed.
Deals is not only going to focus on saving money. "It's more important to us that you find interesting experiences around you to do with friends," wrote Emily White, Facebook's Director of Local and former Executive at Google, in a Facebook blog post. She explained that these experiences could include backstage access for Austin City Limits, for example.
Most importantly, businesses will pay for the rich information that Facebook users willingly put onto the site and there is no reason why these businesses wouldn't receive aggregated data about its consumer base by working with Facebook Deals.
Facebook has also been ramping up its promotional efforts for Facebook Credits. For now, they are used primarily for micropayments in the growing subset of casual games on the site. (Let's not underestimate the value of social gaming. Popcap, a successful independent game developer was just acquired for $750M, which is kind of a big deal.) I can be counted amongst those who see these credits eventually being used to purchase actual goods through Deals, with Facebook getting a cut of the profits.
Facebook doesn't exactly have a perfect record with rolling out new features. The world wasn't changed by Facebook's Questions or Groups, but these features still fit into Zuckerburg's vision of Facebook as the Internet hub. Zuckerberg truly believes that all businesses will be run with social networks in mind, and he is doing everything he can to make sure that happens on Facebook.
We may be plenty of years away from having the technology necessary to make the "Minority Report" vision of the future come through, but what Zuckerberg offers has consumers opting-in to his service by letting everyone know where they are and what they are doing with Facebook.