The world of mobile application development is much like a snowball rolling down a hill: growing with every moment and rapidly building on prior material.  If you can dream it, think it, or wish it, there is more than likely an app that can fulfill it.  And if not, get out there and actualize your brilliant idea!  Just make sure it was not already done.
A case in point: the tale of ShoutFlow and the now defunct Domo, which was taken off the market by both Android and Apple.
We begin with ShoutFlow, developed by Hawthorne Labs in Palo Alto, CA.  ShoutFlow harnesses the spontaneous, magical, and playful way strangers meet and become closer in the world.  Interfacing with Facebook, ShoutFlow allows users to reach out to like-minded strangers in their vicinity through messages, which could lead to potentially inspired meet ups in the real world.
Separating itself from what I see as the "Pokémon Effect" of some social networking platforms, or the urge to "catch 'em all" and add them to your already vastly oceanic Facebook friends list, Liz Gannes at All Things D  describes ShoutFlow as "less about flirting and collecting random friends, and more about finding just one new person to talk to."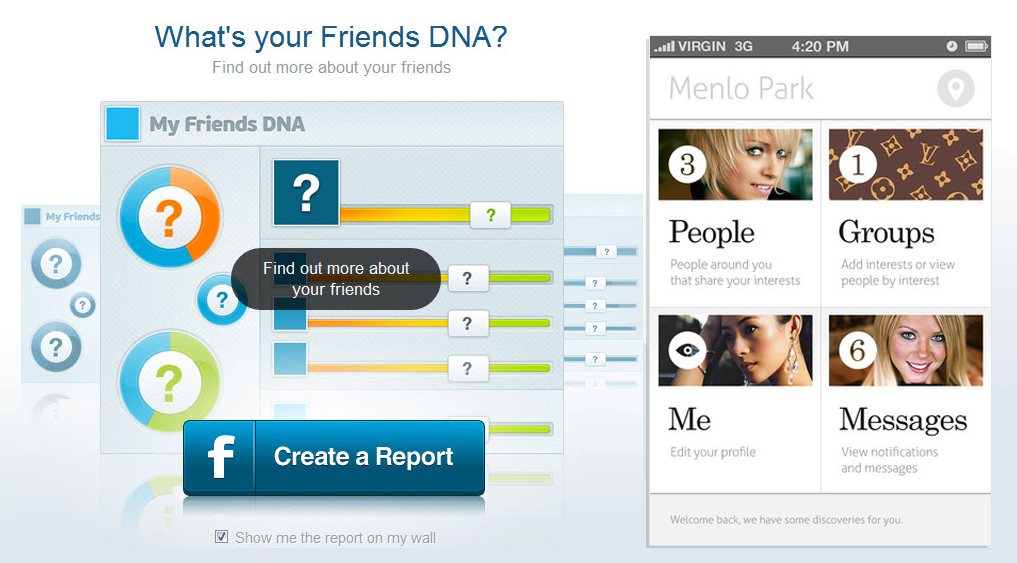 Before ShoutFlow, Hawthorne Labs developed their self-proclaimed "flirting-facilitator platform" LikeALittle, designed to help students on college campuses flirt and connect with each other.  Users anonymously post messages to each other, detailing chance meetings in cafeterias or fleeting eye contact in libraries, on their college's LAL website.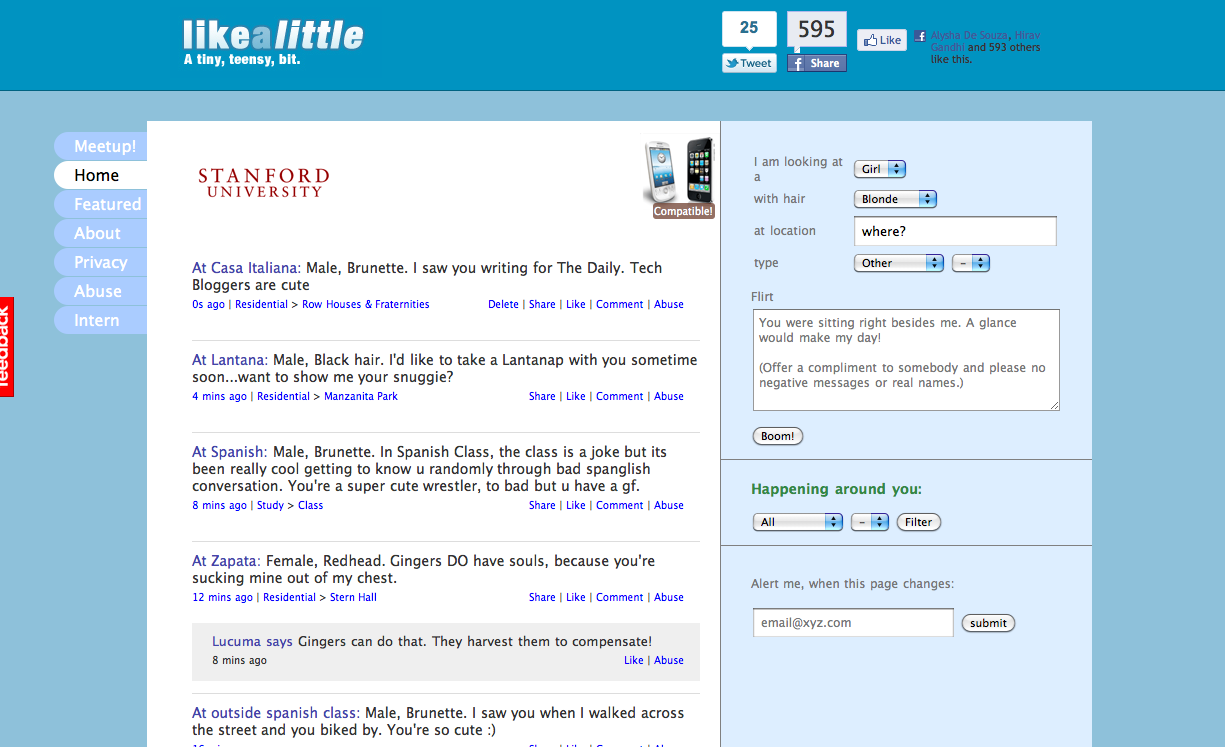 Hawthorne Labs then introduced LAL People, LAL's "non-college" counterpart.  LAL People aimed to bring the experience of "college flirting," vaguely anonymous and within a closed pool of people, to the world at large.  LAL People was re-launched as ShoutFlow in September 2011.  When considering the development of this app, I am subtly reminded of Facebook's growth from insular Ivy League directory to the global networking superpower it is today.  All people, regardless of their backgrounds and experiences, want to connect with compatible others in their communities.  The hottest way to engage with each other now is through media that gives you an edge and a little more information as you build your social network.
However, there can be pitfalls when companies develop software that reintroduces the same ideas without a unique spin.  Domo was a social networking app designed by Tokyo-based company Tonchidot.  Like ShoutFlow, Domo takes information from Facebook profiles in order to function.   The company presented Domo for the judges at the LAUNCH Conference in San Francisco in February 2011, and the app was launched in early March.  Bruce Sterling covered Domo's introduction at LAUNCH this past February and quotes Takahito Iguchi, the Founder/CEO of Tonchidot: "Domo connects people! Domo makes love and peace!  Pre-Social is important! It is huge! But, location is not enough — we need context! Domo discovers people we should meet nearby!"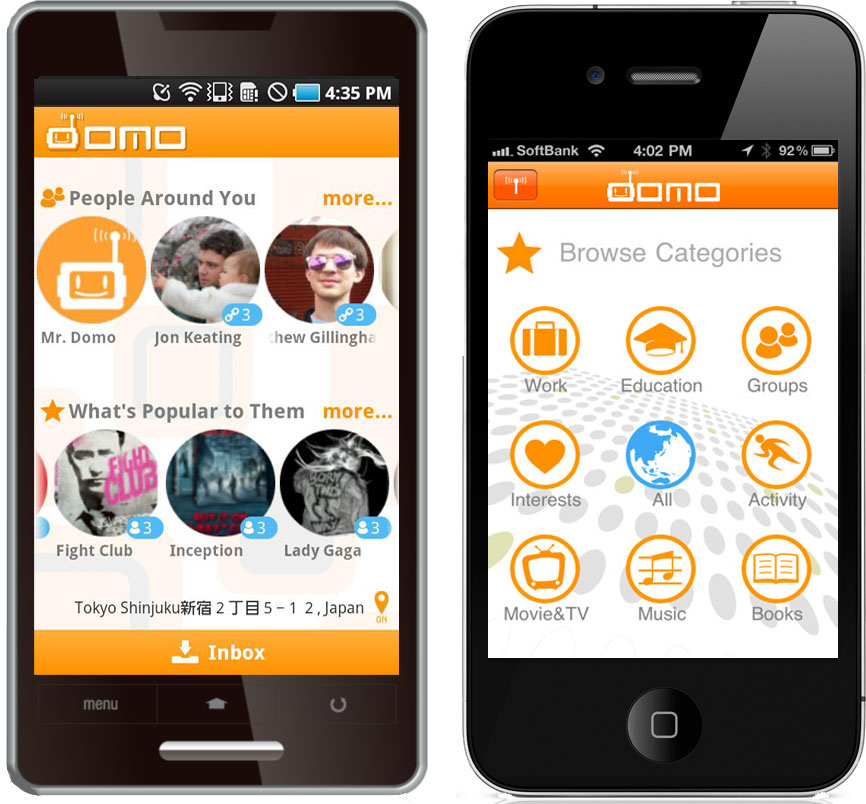 Not even 3 weeks later, the application was removed from the Android market and the iPhone app store. The company's service suspension simply read:
On 26th March, our smartphone app "domo" was removed from the Android Market.
According to Google, there was a trademark complaint regarding the application in the U.S, and the app was removed according to Android Market's policies.

We also expect our iPhone version of domo to be removed from Apple's App Store.

In light of the various marketplaces' terms of use, we must also stop our servers, which means that existing users, both on Android and iPhone, will no longer be able to use the apps already installed. We apologize for this stoppage of our services in such a short time after our initial release.

We have been greatly encouraged by the early users of our app since its launch a few weeks ago, and apologize for the huge inconvenience this situation is causing to our users.

We will keep you updated through our website, Facebook page, and Twitter account.
We are resilient, and we are strong.
We'll be back.

Sincerely Yours,
domo Team
It is unclear what exactly prompted Domo's suspension.  Perhaps there is only so much peace and love a mobile application can make without infringing on another company's intellectual property?
Interestingly, this is not the only complication that Tonchidot has faced with American app distributors.  In March 2011, Apple also removed the Japanese company's augmented reality app Sekai Camera from their app store, claiming that it went against Apple's policies.
This tale is a lesson for all aspiring app designers and any creative entrepreneurs: make sure your app, product, or service has a clear spin that differentiates it from what is already on the market.  All app developers respond to the needs of their consumers; the collection of boxes on our various touch-screen devices help to make our lives a little or a lot easier.  Apps address needs and solve problems that many people share – and at times did not even know they had!  For the savvy developer, it is certainly okay to build and improve on what has come before you — but make sure your app is still as unique as you are!