Online music revenue is expected to raise $6.3 billion dollars by the end this year, a 7% increase from 2011. The biggest change to how music is consumed digitally is streaming. Physical media sales of music have been in decline for years and two of the biggest players in the streaming music game are Rdio and Spotify, facing off in this edition of Startup Smackdown!
Spotify was founded in Sweden by then 22 year old Daniel Ek. Spotify has been available in Europe since 2006 and after grueling years of negotiation with four major record labels, it trickled into the US early this summer by invite only, and was publicly released in July.
Rdio was created in 2010 by fellow Swedes and Skype founders Niklas Zennström and Janus Friis. Zennström and Friis also founded the controversial MP3 exchange program Kazaa.
Round 1 – USABILITY/INTERFACE
Spotify is a downloadable application and the interface is very similar to iTunes, including drag-and-drop functionality. It is easy to create playlists and share them on Facebook and on your Spotify account feed. You can also favorite songs easily and they are automatically saved to your "Starred" playlist. It also has three tabs – "What's New," "Top List," and "Feed." Feed allows you to follow your friends' playlists and activity by syncing with Facebook. After partnering with Facebook, Spotify took a lot of heat recently when they started to require a Facebook account to stream music. If you do not want what you are listening to being broadcasted to all of your Facebook friends, you can turn on the "Private Session" option.
Rdio is a web application, and consequently does not have the same ease of use that Spotify does. You can still make playlists and share them, but the process is just somewhat more time consuming. One major perk of Rdio is that it suggests music based on your previous listening history. This is a huge plus for people like myself who are continuously on the hunt for new music.
Winner: Spotify, however the only thing missing is Rdio's recommendation option. Spotify does have a radio option, which plays songs based on genre choices.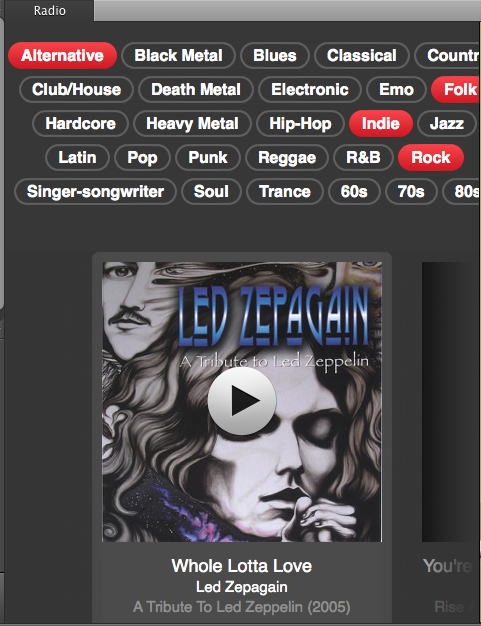 Round 2 – SUBSCRIPTION
Spotify has a three subscription plans: Spotify (free), Unlimited ($4.99/month), and Premium ($9.99/month). Unlimited's main perk is that it is ad free, the value of which is great. No one enjoys a commercial for an Usher song to start playing in the middle of your Bach jam session. Premium boasts a mobile app, offline access, and no advertisements.
Rdio is run through a subscription service, making music streaming ad free. Consequently, there is only a short free trial period that ominously counts down at the top of your screen. Below is a screenshot of my account after an hour or so of play, so the free trial most likely lasts for about ten hours of streaming. A web subscription is $4.99/month, web and mobile is $9.99/month, and a family plan (2 web and mobile subscriptions) is $17.99.
Winner: It really depends on your platform and advertising preference. Rdio does not have a free subscription option like Spotify but they do not advertise at all. However, getting rid of advertisements on Spotify costs the same amount as a regular subscription to Rdio. Personally, I do not mind ads so Spotify is the winner for me.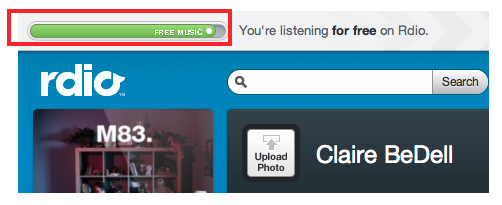 Round 3 – THE FUTURE
Spotify does not have agreements with some record labels, consequently they are missing a decent amount of artists. However, Spotify pays artists every time their song is played. With iTunes, artists are only paid at the initial time of purchase. Spotify pays artists every time their song is played. Spotify has been known to take some heat for not paying the artists their fair share, but founders chalk this up to the time in which these statistics were measured. Yesterday, UK-based digital music distributor STHoldings announced that it was pulling 234 of its member labels from streaming services such as Spotify, Rdio, and Napster.
They also shared some alarming statistics:
During the third quarter – the first full quarter STHoldings supplied content to Spotify and others — digital revenues dropped for the first time.  The year-over-year decrease was 14 percent.
During that same period, iTunes revenue dropped 24 percent.
During that same period, Spotify, Rdio, Simfy, and Napster accounted for 82 percent of all content 'consumed,' but just 2.6 percent of overall revenues.
During that same period, Spotify paid £2,500 ($3,376) for 750,000 total streams.
Winner No one. If this pattern continues, both services are S.O.L. So unfortunately, everyone is a loser in this round.
FINAL COUNT: SPOTIFY 2, Rdio .5
All gloom and doom aside, Spotify is the winner of this edition of Startup Smackdown. When it comes down to it, functionality wins my vote, although I would love to see a recommendation option like Rdio's.  I also love being able to listen to my Facebook friends' playlists, although they would never know it because of the Private Session mode. It is hard to say what is in the cards for these services, but if other labels and distributors follow suite, it could soon be the end of them.
Congratulations Spotify on your win!