The Houston-based merciless alarm clock Wake N Shake launched yesterday in the iPhone App Store and has proclaimed itself as the "Snooze Button Killer." It's an iPhone alarm that doesn't shut off until you shake it enough to fill up its shake meter. With that and other functionality, founders Pedro Wunderlich and Andres Canella hope to increase your productivity by getting you out of bed a little bit earlier each morning.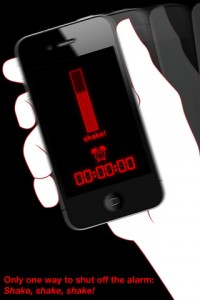 "The idea came from need, from wishing I wasn't a slave to the snooze button, wishing that I could wake up earlier and get more stuff done. You can always say that you won't use the snooze button, but when you have to sleep and it's there, you use it. There were times when I'd use it for up to four hours. It becomes subconscious and you just do it. I wanted an alarm that would kick my ass, so I started thinking how I could use the iPhone accelerometer to have something more physical," said Wunderlich.
To solve such a problem, Pedro teamed up with Andres Canella as his technical co-founder. Canella hadn't coded anything in more than 10 years, but after hearing the idea he bought some books on Objective-C and was fluent within a few weeks. Two months later, the app is available in the App Store.
Wake N Shake's functionality includes a configurable shake function – from hard to merciless, unlimited alarms, quick naps, 34 creative alarm sounds, alarm countdowns, and an animated alarm clock character named Alarmi that acts as both your friend and foe within the app.
With that, the pair believes they can save people up to 10 days worth of time each year from snoozing – as illustrated below courtesy of Pedro.

———-
For stay up to date with Wake N Shake, you can follow them on Twitter @wakenshakeapp.