The t-shirt is a fashion trend that will never die. It is comfortable, it is casual and often, you can make a statement (sartorial or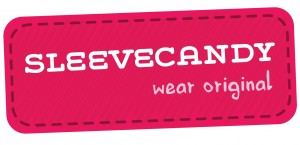 otherwise) simply by wearing it. Sleevecandy takes our love of t-shirts and brings it back full circle to offer unique pre-owned torso coverage to the masses, with the added benefit of doing some philanthropic good in the process.
Officially launched in July, Sleevecandy is founded and run by not one, but four recent graduates of Northwestern's Kellogg MBA program. Head Person & Director of Counting Beans Reed Hushka's enthusiasm for vintage tees conceived of the idea and his business acumen had him bringing in friends and classmates with the same enthusiasm and complementary skills. Kavin Arumugham handles Operations, Andrew Fazekas the Web and Products and Hanif Sean Perry covers the Marketing aspects. While Hushka, Arumugham and Perry are all currently full time, along with a few interns, come the fall Arumugham and Perry will be taking on day jobs as well.
Seeking to create a virtual thrift store experience, without all the hassle of actually going to a thrift store, Sleevecandy sources most of their inventory from the Salvation Army and a few other select vendors. But not every shirt they receive bears all of the qualities required to become inventory. According to Perry, less than 3% of the shirts they receive and sort through get the stamp of approval. "Each shirt is hand-curated, personally inspected for stains or holes, then washed, and then inspected again before being added to the inventory," says Perry. In addition, since brand, style and age can affect a shirt's size and shape over time, each shirt is measured and sized according to the universal size chart they created to provide a baseline for customers.
Sleevecandy's pre-owned status tends to make them unique because, sadly, many items of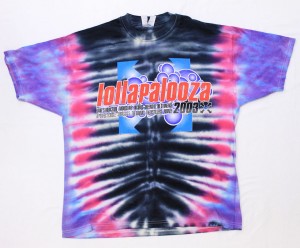 clothing don't make past it a few years in good shape, much less a couple of decades; the photo you see on the website is the actual shirt you'll receive — and it's the only one in stock. The selection of t-shirts offered is diverse and according to their FAQ, "At Sleevecandy we believe it's that element of one-of-a-kind, accidental irony that makes a truly awesome shirt." Some of the 2,007 featured tees on the site today range from a tie-dyed Lollapalooza 2003 (in large) to a bright blue "I Won Big at Jermey's Barmitzvah" (medium this time).
And you can pat yourself on the back with your second-hand sleeve, Sleevecandy donates an almost unheard of 30% of each sale to the Salvation ArmyAdult Rehabilitation program, which offers education, work therapy and job training services for adults suffering from drug and alcohol dependency. According to Perry, "we really value what we do and this is a great way to give back."
Not only does Sleevecandy give back to the community, their sustainable recycle model gives you a shirt that is new to you, but not to the earth. Manufacturing of new goods takes massive resources – about 713 gallons of water to make a new t-shirt, from the cotton field to the store shelf. By recyling previously loved t-shirts, they save the environment from that impact.
About the initial launch Perry said, "Being Kellogg MBAs we're overconfident [laughs] and we really wanted to prove the model to see if it works and bootstrapped it past the incubator stage." Though the site currently brings in enough revenue the keep the lights on, they are in discussion with angel investors in order to seek the funding they need to focus on marketing and awareness.
According to Perry, traffic is slowly picking up and bearing a healthy trajectory, with August 10th being their highest traffic day to date with 700+ visitors and on average viewers are sticking around for about 5 minutes at a time. With their focus currently on brand awareness, they are on Twitter @Sleevecandy and Facebook, as well as having created a blog, where they cover topics like the history of the t-shirt and how to properly care for a vintage tee.