A new combat uniform was unveiled in the UK this week that will conduct electricity within its own fabric. The new technology was shown off at a conference hosted by the Centre for Defence Enterprise, whose website touts itself as "the entry point for new science and technology providers." The new uniform could be ready for military use by the end of this year.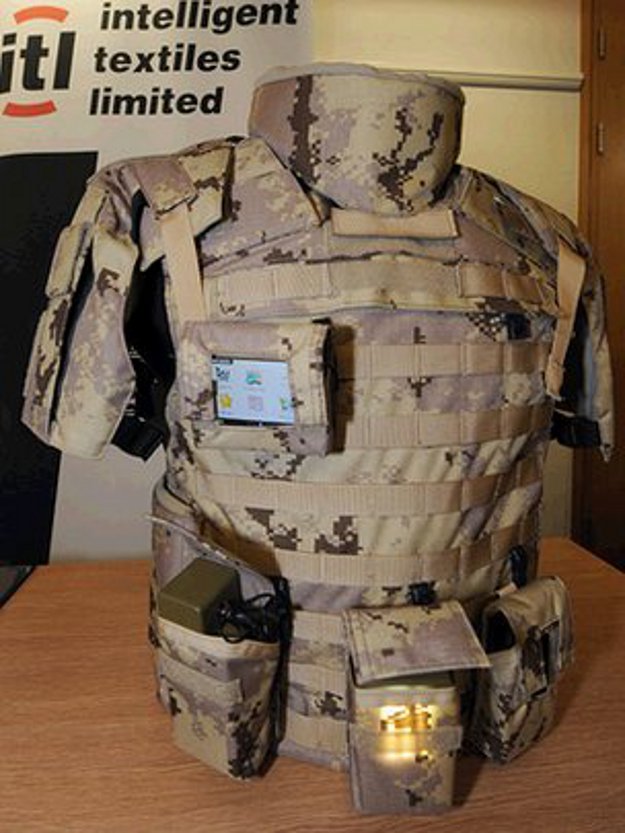 The conductive uniforms will allow soldiers to get rid of the wire and battery clutter that currently weigh them down. The technology will provide power through a single centralized battery pack that could replace the many different ones used by each piece of equipment today. Intelligent Textiles, the company behind it, hopes to give soldiers increased freedom of movement in the field, where wires can often get snagged or become tangled.
One of the uniform's biggest features is that by being entirely conductive, a tear in the fabric is not an issue, where a stripped or completely severed cord could effectively break a device until it can later be repaired. The fabric can be integrated into many different parts of the soldier's uniform, including the vest, shirt, backpack, helmet, gloves, and even the weapons they carry.
Intelligent Textiles has received £234,000 (roughly $370,000 USD) to further develop the conductive fabric uniform. The company has plans for field testing this summer, and estimates that the technology will see widespread combat use sometime within the next two or three years.
The company additionally showed off a fabric keyboard that will be used by a computer powered through their conductive uniform. Other new projects showcased at the event include a fluid shock absorption material that can be used in armor and helmets, a complex robotic hand featuring pneumatic muscles and electrical sensing, and a small micro air vehicle that streams video from the air to smartphone and tablet devices.
The center's next event later this month will feature projects solving problems in military medical care, specifically front line medical operations and the rehabilitation of wounded soldiers.