Sometimes new technology can make small business owners feel like you're showing up late to a party. The problem isn't an unwillingness to use the tools, but rather the lack of practicality and attention to the bottom line.
The recent explosion of social, local, and mobile commerce sites have presented an entirely new way for you to acquire customers for a low cost. Even though getting the word out to customers isn't cost prohibitive anymore, the paradox of choice can leave your head spinning when trying to decide on the best way to market yourself online.
Between Twitter, Facebook, blogs, and email blasts, it can be difficult to learn about emerging social media and how it can affect your bottom line. Enter businesses like Marketing Java, which is helping small businesses learn how to take advantage of emerging platforms like Pinterest – social media's newest darling.
Marketing Java founder Deb Kolaras uses the bookmarking site not just to promote her business, but to educate other businesses about how they can use the social network to promote themselves.
Businesses can use Pinterest to reinforce their own messaging for customers. We use our Pinterest channel to share infographics on our beliefs as they relate to social media, but we also use it to educate and help our target audience. For our purposes, it serves as a learning tool, but also one that makes us invaluable. For other businesses, it helps us provide ideas on other ways to reinforce their brand and even provide additional revenue streams, should they decide to sell or offer things we share as ideas.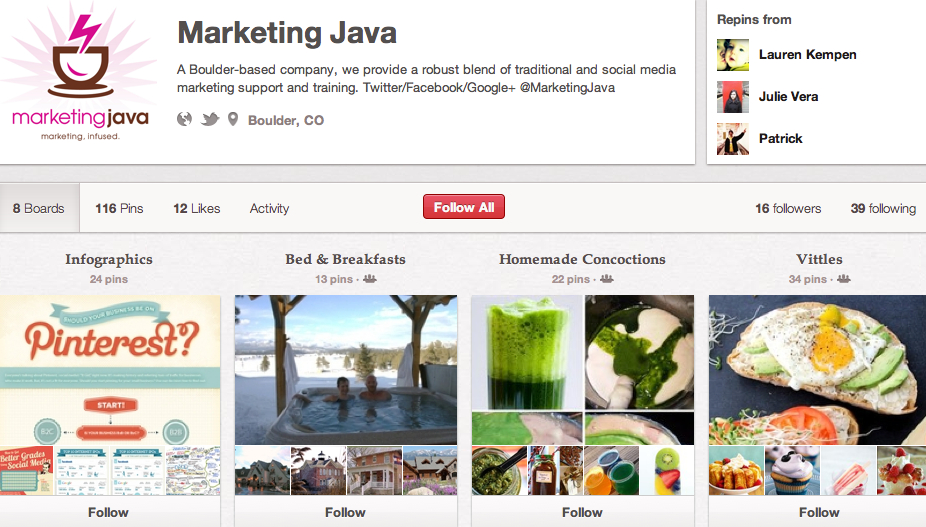 The Boulder-based company works with a number of Bed and Breakfast clients and uses pinboards to demonstrate how they can use Pinterest to highlight services and attractions. For example, Kolaras has created a pinboard with a collection of inspirational images that B&B owners can use while brainstorming take-home gifts for their guests.
Kolaras also uses her pinboards to highlight how the site can help generate significant traffic to your site.
People that enjoy your pins often get curious, as our own analytics support. We have traffic from Pinterest landing on our site and blog, but also connecting on other channels. It seems to be a very friendly, less spammy variety of social media who's time has come, thankfully.
Pinterest is the perfect marketing platform for small businesses for two reasons: it drives a tremendous amount of relevant traffic, which is likely to convert customers, and it's an easy platform with a very minimal learning curve. While building brand loyalty through Facebook Pages and Promoted Tweets on Twitter require more learning time, Pinterest is a great entry level social media tool for any type of business. Companies like Marketing Java believe that social media savvy is possible with the right tools and instructions.