During his presentation at this week's Ad Age Digital Conference, Tumblr CEO and founder David Karp caught the audience and media by surprise when he announced that Tumblr will be offering ad placements starting May 2nd. This was an unexpected move, considering Karp has a long history of being ad averse on the Tumblr platform – which currently hosts over 52 million blogs known as tumblogs.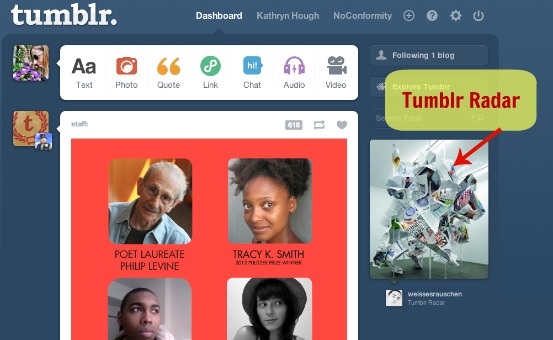 In an interview published one year ago almost to the day, Karp told the Los Angeles Times that he was opposed to advertising as a source of revenue for the company. Tumblr had planned on releasing a more feature rich experience to paying members, although that never happened. Until now, Tumblr's primary monetization strategy had been its theme marketplace.
Although the ad placement announcement may seem like a 180 degree turnaround, this is the right move as it makes the platform more welcoming to brands. Like it or not, users are interacting with brands, and brands are already using Tumblr.
The most successful brands that are using Tumblr to promote themselves tend to be fashion and art inspired that rely heavily on visual culture to express their values and connect with consumers. Fashionable brands that use Tumblr as their primary blogging engine include Warby Parker, JCrew, and the Ace Hotel. For brands like these, blogging with the Tumblr engine as opposed to alternatives like WordPress is an advantage because their target demographic is using Tumblr on a regular basis.
Despite the heavy usage of Tumblr by brands, the platform isn't brand friendly for a few reasons:
Poor Discoverability: Users can search by tag using the Explore feature, but that's about it. The explore feature only returns individual posts and top contributors who post using the tags search for. Still, it's hard to find users and brands to follow based on your interests.
Poor Categorization: Many tumblogs don't have a theme because users post on a variety of topics (with some posts not having a topic at all). Tumblr doesn't classify tumblogs by category, which makes discovery more difficult.
No Analytics Dashboard: Unless you integrate Google Analytics with your tumblog, there is no way to get any data about your visitors.
Strained Relationships With Major Fashion Brands: In 2011, Tumblr launched a disastrous campaign to align brands with top fashion bloggers at New York Fashion Week. The experience was bo bad for the brands and the bloggers that some former Tumblr enthusiasts began to think twice about maintaining a tumblog for their brand at all.
Hopefully by allowing brands to promote themselves in Tumblr's Radar feature, the company will be able to rebuild come of the clout that it has lost with brands. These companies have been frustrated because the platform is perfect for visually communicating their brand values, but until now Tumblr hasn't offered any support to this growing vital segment of their users. This step forward should be a win for both sides, as Tumblr generates revenue, and brands get greater exposure.