Travel planning service Tripomatic launched its brand new mobile app this week, putting its easy-to-use itinerary planning power right where travelers will need it most. Through both its mobile and web applications, Tripomatic aims to make planning and executing your next trip as painless as possible.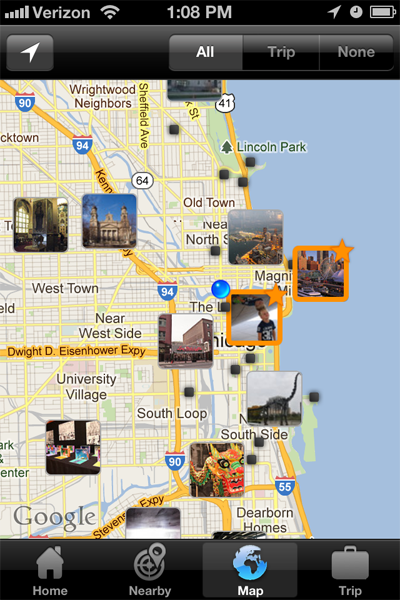 Tripomatic is a free service that allows anyone to view a city's biggest landmarks, points of interest, and attractions in a simple map view. While browsing the map, locations can be expanded for more information and added to a travel itinerary, created on-the-fly by the service. Tripomatic was founded and launched mid-last year by Lukas and Barbora Nevosad –  a husband and wife team from the Czech Republic
"We built the app to be fun to use and great to look at," wrote co-founder Barbora Nevosad. "Less boring text and buttons, more pictures and easy-to-use gestures. This is not yet another ordinary travel guide."
The mobile app will automatically update its map based on your location, providing immediate results of the best things to do in your area. Tapping icons on the map will provide the name and specific category of the attraction, and clicking further gives a more detailed description, your current distance from the attraction, and allows you to add the result into your itinerary for later.
For now the web service is understandably a bit more robust than the newly launched mobile app. For instance, on the web Tripomatic gives more targeted recommendations of "must-see" locations, and even allows you to sort the results shows on the map by categories like relaxing, shopping, and seasonal activities. In addition to providing sight-seeing locations, the web app allows you to specify your planned accommodation and method of transportation, and takes them into account when creating its itinerary map.
Fortunately both the mobile and web services are paired using your Tripomatic account, so that you can make travel itineraries on the computer and easily take them with you on the go, and any updates you make while away from your computer will be reflected next time you look up your itinerary on the web app.
The app is currently available for free on iOS devices, but there's no word yet on when (or if) we'll see an Android version of the travel planner.