The ubiquitous nature of smartphone and tablets is driving behavioral changes at an unprecedented pace. We are trending towards using one device for everything (see the Kleiner Perkins graph below). And the device needs to move seamlessly back and forth between work, home life, leisure activities, and everything else that we do on a daily basis.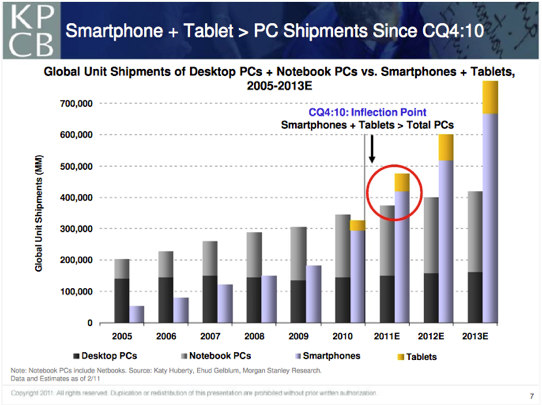 This trend is impacting social behavior. The tethering to a single device permits life and work to overlap in many more situations than before. Work emails come through at all hours of the night, and there are often expectations that they should be replied to — immediately. Personal communication methods, whether via Facebook, Twitter, LinkedIn, email, text, phone call, or a slew of other tools, permeate our lives at all times of the day. We have tools, like HootSuite, to monitor our own relevance on the social graph, and products such as Radian6 to track our company. And any free moment we have is spent checking emails, engaging socially, or playing Angry Birds. The convergence of professional and personal lives driven by mobile technology stimulates two cross-cutting trends about who is influencing what we do and what we experience.
Trendsetting: Be Part of the Social Graph
Social and professional business networks, both offline and online, have created new ways and systems for people to stay in touch, new ways for people to influence, and new ways for people to be influenced. While the impact of Facebook, Twitter, LinkedIn, and other social networks has been widely panned, newer entrants in social couponing, real-time chat, check-in applications and social contact management systems (CRMs) are creating new ways to interact on and offline within an existing (and expanding) personal network.
The major implication of these new ways to keep track of people is that we are increasingly looking toward our existing connected network to deliver insights about our world at large. This means that we can just as easily receive recommendations from our more technologically active peers as from so-called experts (via Facebook and Google+, for example). Over time, this trend means that the likes and proclivities of the best-connected or most visible people online are having the largest impact offline, shaping personal, interpersonal, leisure, and business activities, especially in the business-to-consumer marketplace.
Said another way: you better get with technology if you want to have a voice in the world of today.
Look no further than the amount of money that celebrities make for tweeting product endorsements to understand how social presence is impacting our world. With celebrities such as Kim Kardashian earning $10k per tweet to her followers, savvy businesses that align with a tweet sponsor can get significant traffic at favorable click-thru rates. Internships.com received 95k+ click-thrus in the hour after Charlie Sheen posted his tweet for interns with a link leading to their site. If they paid Sheen $10k, they ended up paying about $0.1 per click-thru. That is cheap compared to the industry average of $1.24 CPC.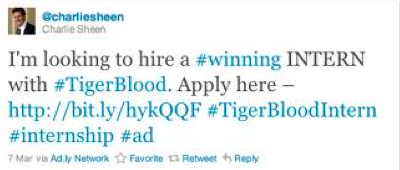 Businesses looking for social amplification can find people with high Klout scores — a score imputed from social reach on the major networks — and try to get them to engage directly with their brands. When a business decides if it wants to pay for a celebrity endorsement, their decision becomes a simple ROI calculation, undergoing the same decision-making process as traditional advertising methods.
From the perspective of social influence, celebrity and mainstream social engagement influences people, tipping the scales away from an individual's ability to influence others. There is another just as powerful trend that is tipping the influence back to individuals: the consumerization of enterprise software.
Changing Corporate Values
The predominant American social contract has been that the large corporation provided jobs, healthcare, and retirement planning for their employees in exchange for productivity. Typically, the employer provides employees with the technological tools needed to efficiently conduct their business. But with the proliferation of smartphones and tablets, employees are increasingly bringing their own devices into a work setting. Corporate information technology (IT) departments are forced to fall in line and comply with the pushing of new products and services by the rank and file employees. In fact, this was the strategy Marc Benioff used in the early days of Salesforce: get the product into a few people's hands, and then go upstream, pointing a finger at the early adopters within the organization as proof-of-concept. A CTO will be more inclined to accept a technology that is already being used within his or her organization. Whether hardware or software, the employees have the upper hand in defining enterprise IT.
Cloud-based freemium software-as-a-service (SaaS) products are especially successful at spreading into enterprise because they can be tested by employees for free, reducing a key barrier to trial. Organizational tools such as Dropbox and Evernote are spreading like wildfire because they start-off free to use and simply solve a big problem. Dropbox spreads virally because it has perfected a two-sided sharing model, conferring benefits on both the referee and the referrer.
Employers are left with two options: provide and mandate technology, and do not support anything else, or save on technological deployment costs but support external software and hardware. While it is easier for a company to supply and support a finite number of tools, rigidity can be off-putting to today's working class — especially millennials. According to Lynne Lancaster and David Stillman — authors of the definitive research of generation — The M-factor, the cohort of workers born between 1982 and 2000, value mentorship, meaning and access to social networking tools on the job more than any other generation. In fact, according to the recently released Cisco Connected World Technology Report, 56% of millennials will not accept employment from a company that bans the use of social media by employees. They also prefer a flexible work environment that empowers them to use their own choice of devices to earning a higher salary. Cisco's infographic sums up their findings. The path of least resistance will be for employers to support employees' outside technology as best they can, or risk turning off an entire generation of employees.
This trend has serious implications in the types of business and enterprise software that will be best utilized by and most suitable for the next generation of workers. Specifically, if software applications (everything from mobile to web to enterprise) are not intuitive, easy, and rewarding to use, they will not be adopted. This phenomenon has sometimes been called the "consumerization of enterprise."
The most successful software businesses will cease to design software for enterprises and will begin designing for people within the enterprise. Some great examples of this trend can be found in Yammer and Salesforce's Chatter, two internal social networking tools that businesses are flocking to in an effort to promote collaboration and to cut down on email flow. Easy access to mobile software applications has reduced all of the previous barriers to accessing software, accelerating the design and development of consumer-focused business products. Access to mobile technology is creating new opportunities for startups to disrupt established players by building software that is accessible to the masses. One industry where this is especially visible is within the $20B customer relationship management marketplace, where a handful of startups are seeking to displace companies such as Salesforce.com by designing products for everyday users. Companies such as DoubleDutch and 5Degrees are re-imagining how people manage their relationships, creating new ways for companies to interact with their internal teams and customers.
The trend of cloud-delivered, freemium software as a service (SaaS) products that are designed for everyday users, not the enterprise, swings the power of defining the workplace back to the employees and will be the single largest driving force in defining the types and ways corporations and small to medium sized businesses interact with software in the coming years.
Who will emerge on top? Will the most socially-connected people influence what individuals use, while individuals in turn influence what corporations use? Where do you see the power shifting?