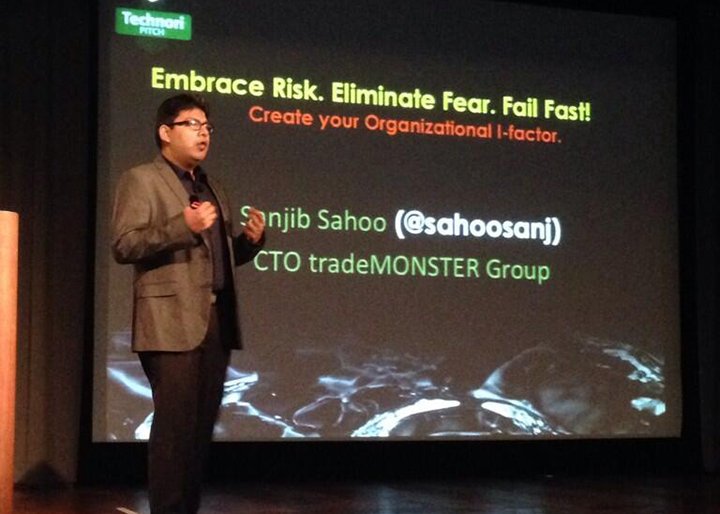 There's something symbiotic about risk and innovation. Tuesday in Chicago, entrepreneurs and investors learned that the city's biggest companies ballooned from innovating and adapting despite, or due to, risk.
"There is no safe innovation, only varying degrees of risk and reward," said Sanjib Sahoo, chief information officer of tradeMONSTER, at Technori, a local, monthly pitch event. He encouraged entrepreneurs to fail and fail fast with value in sight.
This is poignant at a time when a startup is built in Chicago every 48 hours and 75 percent of all startups fail.
But Sahoo's viewpoint – to "innovate or die" — has helped make the tradeMONSTER startup, within the very unsexy options trading industry, an industry leader in five years. After launching in 2006, they have invested $30 million to build out the initial platform and took three years to break even. And in the last four years, they have grown 164 percent yearly in revenue.
Sahoo urged entrepreneurs to rethink the way they envisioned risk, saying that the key lies in understanding the value risk can create.
The Chicagoland area is home to 34 Fortune 500 companies, and is "exceptional at building very unsexy B2B companies, but that's because we understand that building business value is key," Sahoo said.
Value can be extracted from risk through asking yourself: "Is this the right move?" and "How can I execute it right?" Sahoo offered five steps to innovating within safe guidelines of risk:
1. Evaluate a business case and understand how innovation will be valuable to your consumer
2. Test your technology through proof of concept
3. Determine the revenue impact and business value it will create
4. Create a four to six week "agile" development plan, with initial cycles planned to overcome technology challenges
5. Analyze risk and value every step of the way
Constant evaluation with data driven analytics helps to assume risk one step at a time, buffering the impact of failure.
"You cannot have an innovative idea for 18 months," he said. "Innovation can be incremental. Apple did not innovate the phone… all they did is make a better phone."
While Chicago's fortune 500 companies flourish through risk and innovation, 52 percent of Fortune 500s have failed since 2000. This is largely due to lack of innovating and adapting to the pace of technological growth. And as companies become bigger, risk becomes difficult because there's more at stake, and too much legacy infrastructure in place.
But Sahoo said to truly innovate, you can't keep past investments in mind. And you have to keep your sights more on the gains than on your losses.
"We'll never know where competition will come from," Sahoo said. No one could have foreseen that alarm clocks would be replaced with phones, or that the emergence of video conferencing could hit British Airways bottom line.
"We can either sit back, relax, be complacent and try to see what others are doing," and face uncertainty and die as a company or let our entrepreneurial spirit die, he said.
"Or we can keep innovating, keep our entrepreneurial spirit, make a change… and make a difference to us, Chicago, and the whole world."