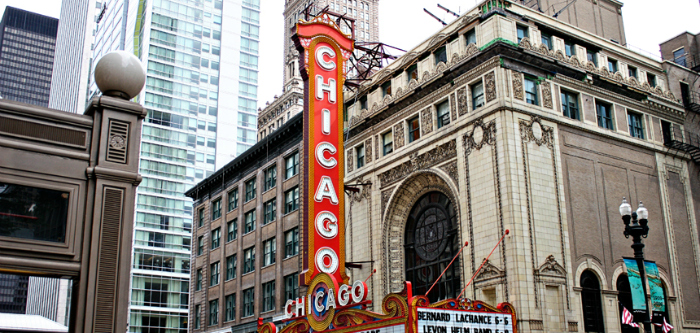 Lauren Katzberg is a native New Yorker who is building her business not in Silicon Alley but rather the Windy City. Katzberg, along with Julia Carmona, are co-founders of in-home beauty service booking startup TheStylisted.
While the deep dish versus thin crust pizza debate will never go away, there are a few key differences between the two cities for entrepreneurs to consider. Yesterday, Katzberg published a lighthearted post on TheStylisted's official blog that outlines a few surprising differences that she has discovered since moving to Chicago. Some of the differences that she lists are more about personal lifestyle, but there are many that apply to the startup lifestyle.
Here are some of her key points, with a few of my own observations based on the time that I spent in the New York startup scene:
Delivery
Lauren Katzberg: Without exception, Chicago restaurants charge for delivery. Not only do I need to pay an additional $3 to get food delivered right to my door, I feel incredibly awkward about tipping. I end up tipping what I would if there were no delivery charge, but I'm a student… and I am lazy.
Me: NYC has delivery down pat. Not only do people get their dinners delivered, they also get their groceries delivered and their laundry delivered. When I first moved to NYC, I felt really weird about the delivery economy. To me, it seemed pretty elitist. After spending time in the city, I won't judge people who are for or against it. But, for busy entrepreneurs who are commuting to spend 18 hour days working at their startup in the Flatiron district, getting everything that you need to stay alive delivered helps.
Winner: NYC
Connectivity
Lauren Katzberg: Cell phone service on the El: I know that many see this as the end of a civilized society, but most people don't abuse it and send emails/surf the internet instead of chatting.
Me: NYC is just experimenting with cell service underground. Although it would make for a more productive commute for some, I'd bet that many New Yorkers would get loud on their phones. Tension is already pretty high in the NYC tunnels as it is. Still, better cell service would be a win for hackers commuting back and forth to Williamsburg Ruby meetups.
Winner: Chicago
Booze
Lauren Katzberg: BYOB: SO many restaurants in Chicago are BYOB thanks to difficult licensing laws. Get this – there is actually a nine course tasting menu that is BYOB (and corkage fee is only $2.50).
Me: Every founder needs to have a drink now and then, both to celebrate a monthly active user milestone and to deal with the stress of fundraising. BYOB is hard to find in NYC. Bar tabs run infamously high in New York. I guess that's ok if you are a venture capitalist, but for founders who are getting their business off the ground, entertainment can break your bank.
Winner: Chicago
Munchies For Hackers
Lauren Katzberg: Bodegas: The concept of bodegas is completely foreign in Chicago. The closest thing to a corner store is a 7-Eleven. If you want a carton of milk or cookies without any fan fair, well, tough cookies.
Me: You can buy any kind of food anytime in NYC, and you can even get it delivered. Make friends with the 3am crew at your local bodega, and you have instant neighborhood allies.
Winner: NYC
Relaxation
Lauren Katzberg: Lake Michigan: If you've ever seen it, there's really no need to elaborate. While I realize that few New Yorkers are out there bragging about the East River and the Hudson, Chicago's 28 miles of lakefront shoreline and 30+ beaches put these bodies of water to shame.
Me: Both rivers that border NYC are vile, but the running and biking paths along the Hudson River are great for employees of west side companies like Google and IAC to blow off some steam after work. Lake Michigan gets extra points for having actual beaches.
Winner: Chicago
Both cities have access to venture capital and mentors who have successfully led companies to major exits. New York City and Chicago definitely have different flavors. TheStylisted is proving that you don't have to stay in New York City to launch a beauty-based company, and Chicago is ready to embrace a new crop of fashion and beauty startups.