Life in a small town presents the same conundrum over and over again: it can be very boring. The same people doing the same things in the same ways every Friday and Saturday night.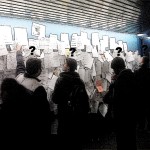 After watching people walk into a cafe and try to find space for their advertisements on overly stuffed corkboards, Daniel Carmody thought there had to be a better way for organizations to get word out for their events.
What Carmody realized was how "decentralized" advertising can be. "You either have to go to a corkboard, or go to a specific website to look for one great event," said Carmody. "There wasn't anything out there where you could go to one website to find events all around you."
The name comes from what Carmody defines not being in a state of boredom; nonBored launched in April 2011. "I did some research and didn't find anything out there, so I built it myself," said Carmody.
nonBored is a site where organizations and event planners can post any event that is open to the public for free. Events range from the upcoming North Halsted Market Days to networking events to local 5k runs.
Coolest feature in this writer's opinion: the interactive Google map located on the homepage. Who wouldn't click on a red orb hovering over Mexico to see what's up? By clicking the conglomerations down to your local area, you can see which events are located closest to you. Hovering over the plotted points gives the name of the event and clicking on the plots bring up the complete event information.
Further note about my small town life: there's nothing on the map for Quincy…yet.
Carmody said there has been "a tremendous amount of adoption" on two sides:  from the people looking for events in their communities and event organizers jumping into the forum to draw in a new audience.
Each event has its own "open web-optimized page," for easy distribution. This not only gives an advantage of "one-click integration with all major social networks," but it also gets listed on nonBored and Google indexes. nonBored also offers people the chance to invite their friends once they have found an interesting event and advertisers the opportunity to meet new audiences never before available to them in one location, said Carmody.
The next phase of growth for nonBored will focus on more small businesses using the service across the United States while Carmody and his team focus on monetizing the operation by offering more "bells and whistles" to their premium account users.
With a background in corporate finance, Carmody said his best bet, and biggest lesson, has been in following his entrepreneurial instincts.
"View the marketplace and see if there's a need," said Carmody. "The feedback from those working in event planning and organization for years has been a need for a tool they would be happy to work with to help them plan and advertise. The lowest common denominator is that this is a tool that everybody could use, too."
Writer Michelle Doellman can be reached at [email protected] and @MAD_about_style