Claiming your title as the 'best' player within your peer group has always been a matter of subjective opinion. One easily invalidated by fuzzy memories and circumstance…until now. Launching today on Android and iOS, Leagues is a mobile app enabling ping (or, beer) pong, darts, foosball, and pool players to find opponents nearby and track their performance over time. Going beyond simply documenting wins and losses, the Leagues ranking system is powered by an algorithm weighting ongoing dominance against high quality opponents (like the BCS, but boozier) over straight win/loss ratio, and it's backed by a socially networked profile rating system designed to keep everyone honest about their game. The app is also pre-loaded with a comprehensive database of game-friendly locales, making it easy for even the loneliest bar fly to teach a worthy challenger the finer points of defeat.
It all started when two buddies from Brown University, corporate technologist Justin Morris and brand maker Brad Albert, decided to combine their experience and form SynApps, an advisory firm helping brands and individuals to develop, market and monetize their app ideas. Then Justin's younger brother Keith, an attorney of all things, remarked over a few pints at a pool hall that he thought it would be cool if there was an app allowing him to document his dominance over friends with selective memory to never let them live it down. A few empty glasses and existing app queries later, the trio was on their way to a partnership getting Leagues out the door.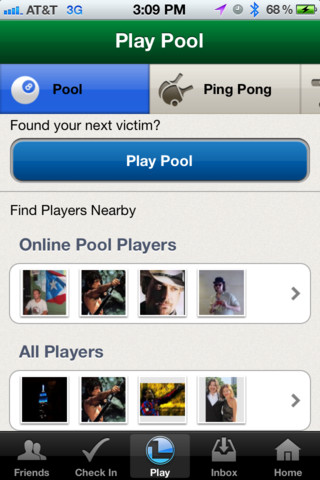 Eschewing the 'Lean Startup' methodology of rolling out incrementally less minimal viable products one test and pivot at a time, Leagues is coming out of the gate packing a gaggle of features (i.e. interactive maps, geo-specific check-ins, location-based checkouts, and private groups) and cross-promotional partnerships with the American Darters Association (ADA), the National Amateur Pool League  (NAPL) and Table Tennis Nation (TTN). The founders will soon embark on a grassroots nationwide college tour hosting Leagues events at popular watering holes. This offline marketing strategy is indicative of their mantra – 'Defeat Your Social Network!,' focusing more on establishing dominance in the physical world than collecting virtual Friends and Likes. That's not to say the viral nature of 'gamification' has passed them by, as the app is built to maximize sharing exposure on Facebook and Twitter.
Leagues is a free app with a monetization strategy based around creating value from 'virtual currency' earned through winning rather than impeding on the gaming experience with intrusive banner ads.