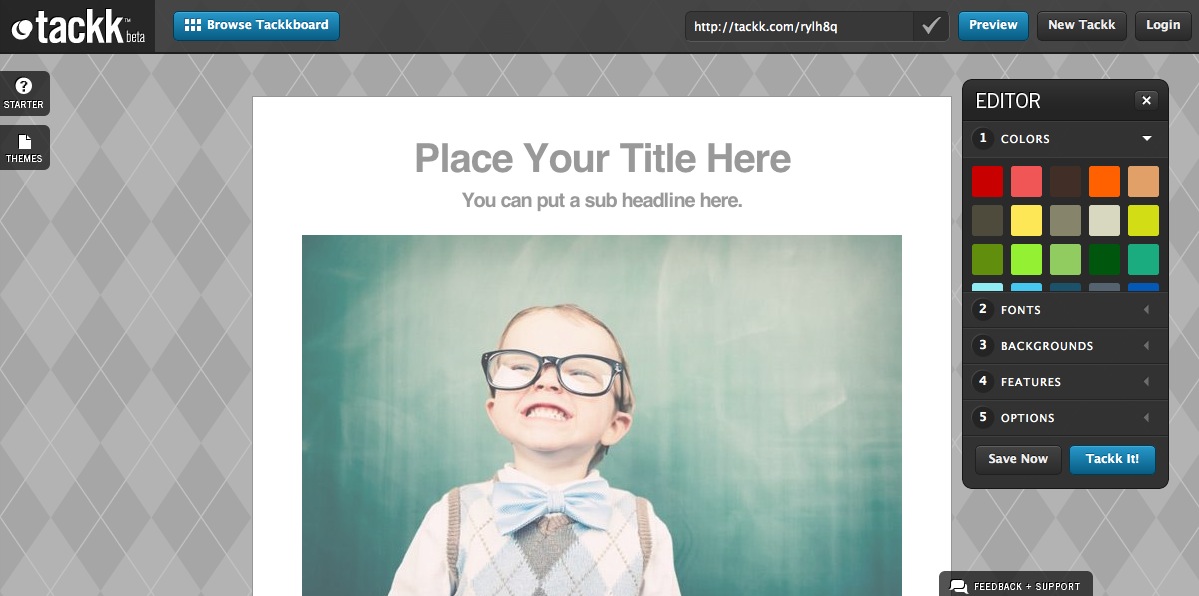 We've all encountered the dilemma of wanting to organize and share a simple idea on the web and not having the proper space to do it. Twitter's too spare, Facebook's too crowded, and creating a new blog is too time consuming for the project at hand. Ohio-based startup Tackk has created a new option, where any user can make a basic, single-use web page for whatever they need, with dead-simple posting tools and no registration necessary.
Tackk made its public debut earlier this month after spending time in a private beta. The service was founded by Eric Bockmuller and Dan Klammer, two Cleveland-based designers with a passion for elegant web creations.
"We saw our friends and family trying to share things online — things they love or stories they want to tell — and realized what a struggle it was for them," said Bockmuller. "It seemed like something that should be really simple was so hard, so we decided to create Tackk."
The co-founders' designer background is apparent when first visiting Tackk, which couldn't be any more straightforward. Upon arriving at the website, a user will be presented with a mock-up post, broken down section-by-section with basic explanations, each of which are editable with a single click. A post can be as basic or as complex as the user would like to make it, with options for pictures, text colors, backgrounds, and even clickable buttons. Posts can be made anonymously, and are aggregated on the Tackkboard — the heart of the service that's helping the founders discover how people are approaching Tackk.
"We love checking out the Tackkboard and seeing all the different ways people are using it," Bockmuller said. "Stuff for sale, party invitations, engagement and birth announcements, bands with upcoming gigs, community events, self-promotion, vacation albums… the list goes on."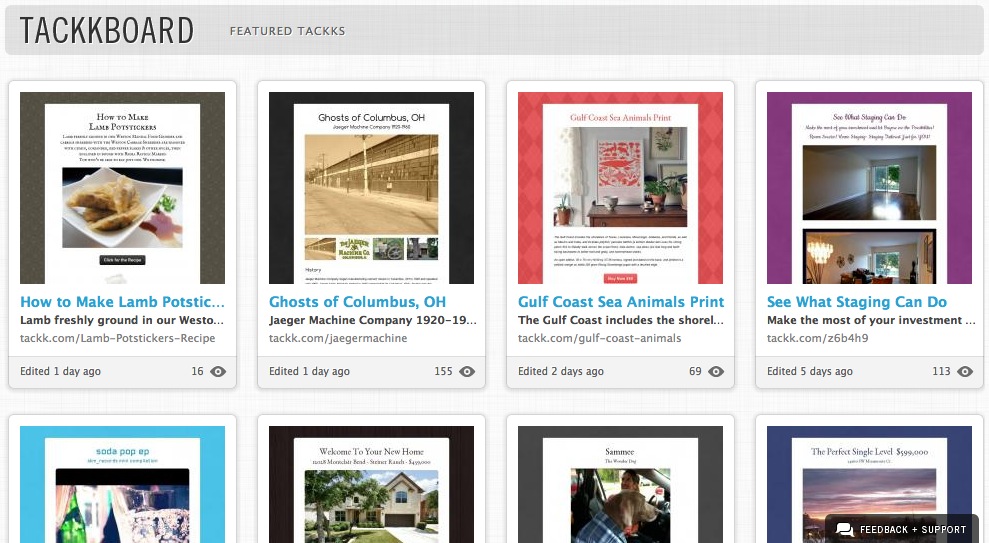 Bockmuller admitted that the pair are focusing on user engagement before they think about monetization, though they do have a few possibilities in mind to monetize the platform down the road. For now the founder said that users are loving Tackk because it allows them to make a post while maintaining their anonymity — an undeniable luxury in a post-Facebook internet. Developing the platform and growing user engagement based on feedback is currently the company's number one priority.
Born and raised in Cleveland, the founders saw a special opportunity with Tackk to create something big in their home city. "We knew it may be more of a challenge, but we understand that we're not just building a great Cleveland company, we're building a great company that lives in Cleveland but exists in the whole world," said Bockmuller.
And thinking of Tackk as a worldwide service isn't an exaggeration; the recently-launched company has been surprised to see it's getting quite a bit of engagement in Japan. "We believe this to be an endorsement of the simplicity of Tackk," Bockmuller wrote. "It's so simple that you don't need to speak English to use it."
Tackk recently finished a seed round of $400,000 and is continuing to meet with investors to discuss the future of the platform.
"We think big here at Tackk," concluded Bockmuller. "Our vision for the future is twofold: one is to become the next verb on the web, and number two is to build a world class company with a great culture."
Visit Tackk.com to try the simple posting service for yourself, or head straight to the Tackkboard to find out what other users are creating.