As an ex-"entrepreneur in residence" with August Capital, and the current CEO of  ToyTalk, Oren Jacob knows more than a thing or two about how startups get funded.  Having sat on both sides of the table now, the advice shared by Oren is invaluable to any entrepreneur seeking a cash injection to help start, or grow their company.  While at the Chevy-sponsored "Tweet-House" event here in Austin (at Mellow Johnny's bike shop no less, an item on any cyclist's bucket list), I was lucky enough to sit and hear Oren drop some knowledge on a small group of this year's SxSW Interactive attendees.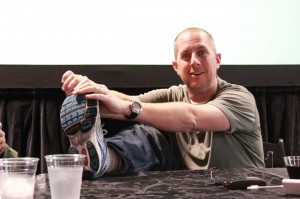 The first thing you notice about Oren is his charismatic personality.  He's a somewhat whimsical character, eccentric in a way that's both fun and refreshingly genuine.  He's the kind of guy that would be more than willing to go out of his way to help you out, even if you were a complete stranger.  And while some of that help may come in the form of humorous anecdotes (like the subject of this article), the majority should be written down and studied by every entrepreneur.  Some key takeaways:
Do not send unsolicited business plans to VCs: investment firms get 10 of these a day, and they all get shredded.  If you're not making at least a slight connection to a VC before sending your plan, do not even bother.
Use casual encounters, like the parties at SxSW, to make a connection: whether it's sharing a cab from the airport or bumping into one another at a bar, just making a quick connection with a VC and asking to follow up will go a long way to a successful first sit-down
Think of your pitch as a conversation, not a presentation: most people know the Guy Kawasaki "10 slide rule" by now, but many walk into a pitch ready to talk AT the audience, not WITH them.  VC's want the pitch to be an open dialogue so make sure you are inspiring conversation, not avoiding it.
Pitches are job interviews: successfully closing a round of VC funding means you've essentially just hired your own boss, it's good to keep that in mind as odd and quirky questions come up during the pitch that investigate your personality instead of your business idea
In ending the discussion, Oren was adamant on stressing the fact that the entrepreneur-investor relationship is a stronger bond than even marriage.  There's no easy "divorce" in this type of relationship and there are only three fundamental outcomes: exit, death, or ejection.  The first means acquisition or IPO, the second is  going belly-up, and the third means you get fired.  And in the case of the last one, Oren again advised that entrepreneurs "do not expect your VC to be anything other than your boss."  This means that even though the relationship you form goes well beyond that fact, it's good to always keep that in the back of your mind at all times to keep you grounded and your mind on the prize.