Foursquare announced a new feature for merchants this week just in time for SXSW: hours. This comes two months after the release of menus for merchants, which allows users to check out the menu of a restaurant while they explore new venues.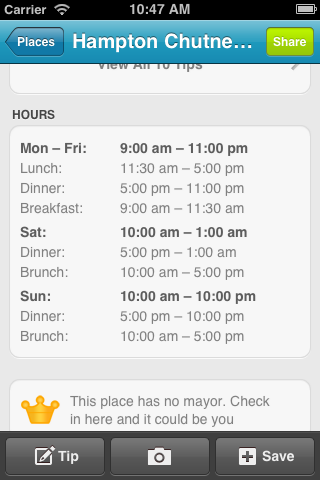 The hours feature hints at a strategy that Foursquare has been creeping toward since the release of Explore for mobile in February: Foursquare could be a Yelp killer.
Yelp is used for a handful of core features: reviews, finding businesses, maps, company info, and hours. One of my favorite features for getting late night take-out in NYC is the "open now" search filters. Now that Foursquare has added menus, explore, and hours, I have no use for Yelp anymore.
The new Foursquare features combined with the review fraud that Yelp has been accused of makes me trust information and tips left on Foursquare venues more than Yelp venues. At his keynote speech at Mobile World Congress a few weeks ago, Foursquare co-founder and CEO Dennis Crowley hinted that he was ready to take Yelp on in the recommendations space. Foursquare's business model of working backwards from checkins to a recommendations engine is clearly working. Users have checked-in on Foursquare over 1.5 billion times.
After searching for a bit, I could not find any businesses in my neighborhood who have taken advantage of this new feature. This is most likely because merchants will need to sign into their accounts and manually add their hours to their profile.
Early reactions from users are positive, with a few users asking for the ability to add hours for venues themselves. One commenter on the official post about the new feature on the Foursquare blog notes that this new feature encourages owners of real life venues to take over the administrations of their Foursquare venue via a merchant account.
I look forward to seeing my favorite venues add their hours in the coming weeks. When they do, I'm killing my Yelp account for good!
Screenshot courtesy of Foursquare's blog.