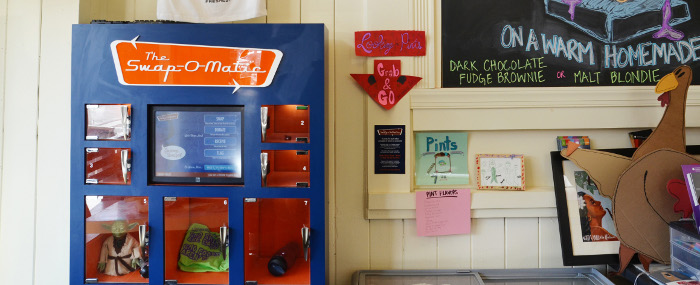 If you see something you want behind the Swap-O-Matic's glass display, cash or cards aren't even an option. Instead, you'll need to pick something you don't need anymore, and offer it up for trade (the device relies on the honor system).
The concept behind the Swap-O-Matic is as much concept art – or a statement about materialism – as a functional vending machine, though the creators have been overwhelmed with support for the offbeat project.
"Swap-O-Matic is intended to inspire all of us to rethink our consumption habits, and consider more sustainable methods such as trading and reusing goods," wrote the creators. "On a much larger scale, the ultimate goal is for the Swap-O-Matic to inspire a movement, affecting change for large numbers of people and communities as trading and reusing re-emerges as a means for increasing local sustainability, reducing waste, and reigning in overconsumption."
New users get three free credits from the machine, which has a retro design that evokes the coin-operated Automat restaurants of the early to mid twentieth century. According to the creative team, typical offerings include books, shoes, and quirkier offerings including a handwritten poem and a free haircut.
Naturally, there is a tendency for items in the machine to gradually decrease in value. A web page that displays the device's current contents currently shows items including YiGiOh trading cards, dandruff shampoo, and a pen.
Curation of the device's holdings are crowdsourced – anyone can flag an item they think may be inappropriate, and when the offending object has received enough flags, the next user is prompted to dispose of the item in exchange for an extra credit.
"The Swap-O-Matic does not assign values to items because it operates on the simple assumption that value is subjective," reads the web site.
The only current Swap-O-Matic is located at Ample Hills Creamery, in Brooklyn. The creative team is currently redesigning the device's interface, and plans to make a new version available in 2012. A current Kickstarter campaign for $135,000 will fund research and development and five physical Swap-O-Matic machines to be delivered to locations voted on by contributors.
Image: Swap-O-Matic