Sumpto, a freshly-launched Miami startup, is aiming to leverage the viral social network sharing of college students to connect brands with the advertising-agnostic college audience. The startup provides opportunities for students to earn rewards based on their social network influence, winning exclusive deals and free stuff simply by sharing with their network.
Benjamin Kosinski founded Sumpto after he graduated from the University of Miami in May of 2011. Kosinski found himself constantly amazed at the way information spread amongst his college friends on social networks, and decided to start a business based on the one thing he knew best: college.
"Following graduation I was able to take a different perspective and view the immense untapped potential that a platform could offer to brands by utilizing this connectivity and social virality between students," wrote Kosinski. "The vision of Sumpto is to transform traditional marketing into a collaborative process between brands and students."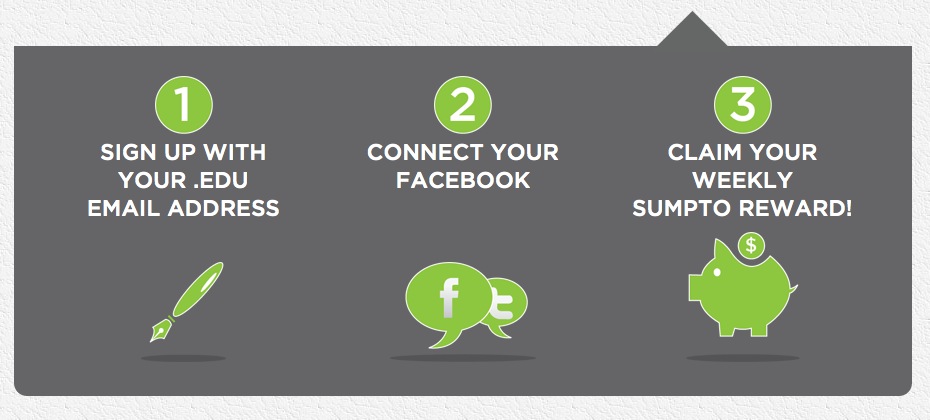 The new service is taking a different approach to reaching one of the most difficult audiences for advertisers. Instead of taking the traditional route, Kosinski wants to help advertisers disseminate their message directly at the heart of social networks, beginning with their users. Sumpto rewards users at different levels based on their social network influence. This influence is measured by which specific school network a user is part of, how many friends or followers they have, and how often they share with their network. The higher a user's influence, the better rewards they can claim on Sumpto.
Upon its July 30th launch, Sumpto will begin a two week promotional campaign with BroBible.com, a news and entertainment website directed at collegiate males. The company already has three brands onboard pre-launch, and Kosinski hopes that within a year Sumpto will be the exclusive platform for brands engage with college students online.
Sumpto's board of advisors includes Pricefalls CEO Elliot Moskow and Ethan Austin, COO of the charitable Chicago startup GiveForward. The company has already received $75,000 in pre-seed funding, and is looking to raise $500,000 to implement new features and grow its user base.
If you've got a valid college email address, be sure to register with Sumpto to find out just how much your online influence is worth.