Gesture based control systems could be in the early stage of an explosion in usability and popularity, with Microsoft's Kinect being adopted for sophisticated musical and medical applications, and the yet-unreleased Leap Motion promising new degrees of accuracy and control on the horizon.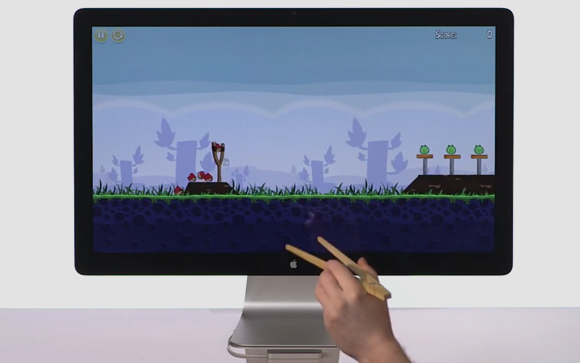 Image:  A demo of Leap Motion's forth-coming gesture-control technology. Credit: Leap Motion
For developers, though, building gesture and depth-based modeling into an existing applications and web sites can be daunting – even if it would add substantially to the experience of users with the right hardware. Kinesis is an Indian startup working to build a native framework to bring those functions to developers, on the Kinect and likely soon other platforms.
"For us point and click interactions are dead or soon will be," said co-founder Bhavesh Dhupar. "Our job is to make developing motion controlled apps as simple as possible."
The API, which supports HTML, CSS and Javascript, will remain free during its beta phase, and can access head and skeleton tracking, arm motions and swipes, and full-body gestures. The team will also work to connect creatives with web developers who are experienced with the Kinesis SDK.
The project – which is based in New Delhi – is founded on a vision of the future for application control that deeply integrates speech and hand motion, akin to the computer system operated by Tom Cruise in 2002's Minority Report.
"We believe that as touch is the paramount form of interaction for personal devices like smartphone and tablets gestures or motion-controlled apps will form the interaction layer for bigger screens," Dhupar said. "Prior to Kinesis developing motion controlled apps was difficult but with Kinesis any developer can start building or exporting their existing apps in no time."
Fragmentation, he conceded, is likely to become a reality, in the consumer-oriented gesture control field. Any developer request to Kinesis to incorporate a new hardware line, he said, will be taken seriously.
One of those projects stands out.
"Everyone is excited about Leap Motion," Dhupar said, adding that he hopes "they deliver."
Kinesis is currently working to raise angel funding.