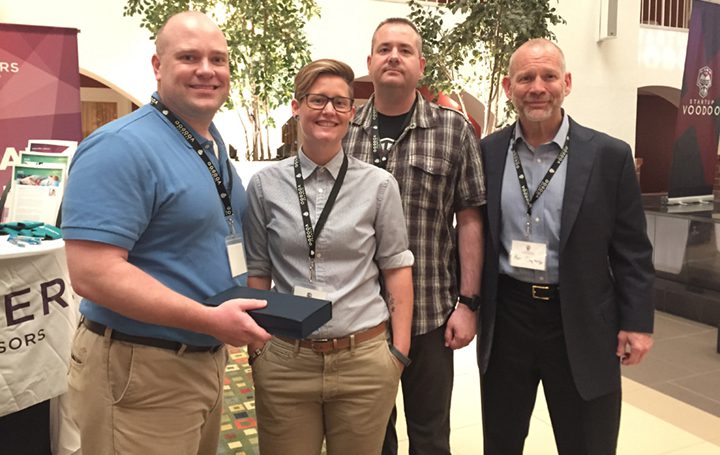 (From Left to Right: Ken Crawford, CEO of Ear Compass; SJ Creek, director of research and user experience; Matthew Rogerson, chief technology officer; Ron Daugherty, competition judge and CEO of Daugherty Business Solutions.)
After pitching their product against two other competitors yesterday at Startup Voodoo, the St. Louis startup Ear Compass was awarded Most Promising Startup in the Midwest of 2015. Standing out from a large pool of applicants, this company will be receiving a $10,000 prized package and hopefully a chance at expanding their product.
Ear Compass is a navigation product for the visually impaired that utilizes assistive software to aid in identifying surroundings wirelessly and through audio. The technology used is more precise and sophisticated than others like it. It is specifically designed for navigating in and outdoors without difficult, utilizes micro-mapping, and can identify signs and labels. The product was presented and pitched in only two minutes by Ken Crawford, company CEO; SJ Creek, director of research and user experience;  and Matthew Rogerson, chief technology officer. "I was thoroughly impressed by their effort," said Ron Daugherty, CEO of Daugherty Business Solutions and one of the competition's judges. "What a compelling approach to creating such an innovative and creative product that is going to help better the lives of millions and millions of people."
The team themselves were naturally excited by this achievement as well. "It's rewarding to know that we're really going to help people, and that we can change the world for them," said Rogerson. It was also exciting to have this win come from St. Louis, as the other two competitors, Hip Pocket and Donald were from Lincoln and Chicago respectively. "We're really proud this win came from here. We love the energy in St. Louis. There's so much talent here. It's a great place to be incubated," said Creek.
According to Crawford, the company's next move after this win is to continue to focus on gaining clients and backers and expanding. "As a business we're sustainable," he said, "We'll still be here in two years, we'll still be here in four. We want to reach as many people with this technology as we can."
(Check out the Ear Compass website HERE.)