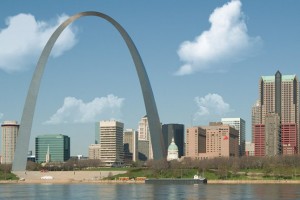 The St. Louis Social Media Group has grown to a strong community of professionals who work in marketing or just love social media. Each week the STL Social Media Group hosts the #STLChat on Twitter, where professionals both here in St. Louis and all around the country chat about social media, start-ups, marketing trends, and more. In addition, the group hosts networking events once or twice a month. This past Wednesday, the group held a fantastic Meetup event titled "LinkedIn and Networking Using Social Media."
This event was targeted to job seekers, entrepreneurs, and small business owners interested in using social media to grow their professional networking. A great crowd gathered for the workshop at the offices of Nine Network of Public Media, with almost 50 St. Louis professionals interested in learning more about that power of social media for both personal and business networking. In addition to the strong turnout, Twitter users were also able to attend the event remotely, by following the hashtag #stlsmg. This workshop took networking to the next level by integrating social media into the live presentation.
The event featured two talented speakers Kathy Bernard and Kesha Brown.
Kathy Bernard opened up the workshop with her presentation "LinkedIn for job seekers & entrepreneurs". Kathy is creator of Getajobtips, a step-by-step blog that helps job seekers and the miserably employed find and land the jobs they want. She also provides career coaching and helps job seekers and entrepreneurs transform their resumes and LinkedIn profiles. Check out some tweets about her presentation: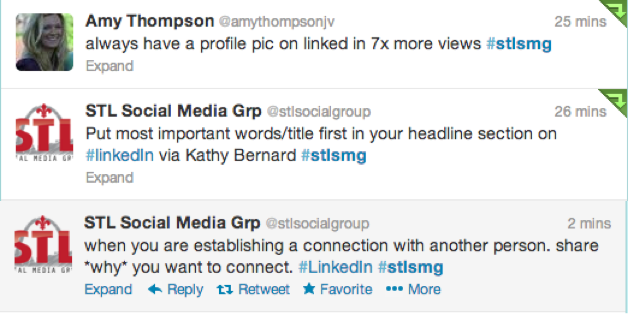 In addition to LinkedIn tips for job seekers, Kathy's presentation offered great tips on different way that all professionals can use to increase their visibility and connect with others on LinkedIn.
Here are a few tips for growing your LinkedIn network from Kathy:
• Do not select the default messages when connecting with someone over LinkedIn, focus on building the relationship with a personalized message.
• When sharing articles, select stories with images because they have higher rates of engagement and add your own verbiage to the post to introduce the article.
• Do not be afraid to give and get endorsements.
• Make your profile public.
• If you are a job seeker, join groups related to your industry and expertise; if you are small business owner, join groups related to your target audience.
• Be an active group member by sharing articles, asking and answering questions, and liking posts by other group members.
• To make your profile more visually appealing, add an online portfolio or presentation education, work history, or summary section.
• Incorporate keywords related to your job or the job you want into your profile.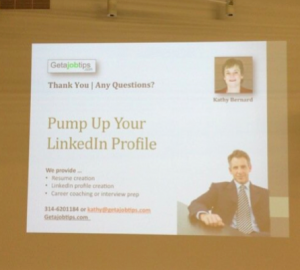 Following Kathy's presentation full of great LinkedIn tips, Kesha expanded upon optimizing and utilizing social media profiles with her presentation "How to network using social media". Kesha is the founder and creative maven of XD Web Solutions, which provides creative and results-driven web solutions for organizations and businesses. Kesha is also a Blogger and Head Chick at UncommonChick.com, a lifestyle magazine encouraging the pursuit of a live lived to the fullest everyday by living outside of the status quo.
Kesha has a fun personality that transferred right into her both educational and entertaining presentation. The presentation kicked off with one of the most important questions about social media uses, "Why do people use social networks?" While, there are many reasons for why people use social media, even flirting, not one of them is the desire to be sold a product or a service. Do not go into social media with your salesman cue cards in hand, you might as well just not even create a profile because the social media world will knock you out as quick as it can. Check out some tweets from Kesha's presentation: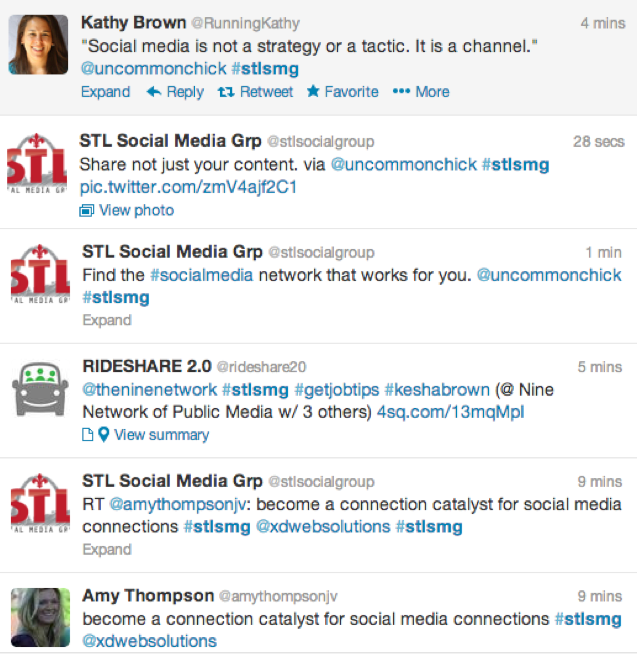 To help professionals and businesses avoid using social media to sell, Kesha discussed some great techniques to utilizing instead:
• Become a connection catalyst by helping people connect with each.
• Share information that you did not create.
• It is okay to eavesdrop on the Twitter! Listen to what your current network is already talking about, figure out how can you jump in and join the conversation.
• Use the 80/20 when conversing on social media; 80% of posts/tweets should be non-sales related content that you did not produce, while the remaining 20% of messaging can be your own content or information related to your business specifically
• You do NOT need to be on every social network! Instead of spreading yourself too thin, first grow one or two networks you view as most important, and then incorporate additional networks into your strategy over time.