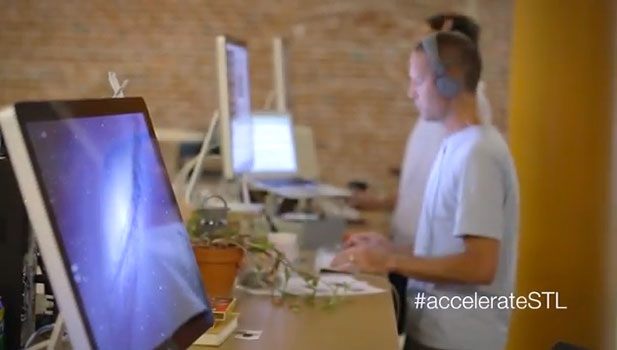 An ambitious five-year plan, announced last week by entrepreneurial, civic and business leaders is calling for broad, public/private support of entrepreneurship in St. Louis through a $100 million fund. Its purpose is to fund new ventures and direct money to established venture capital and angel investment groups. The fund also will advance startup support systems throughout the region, including expert mentoring, accelerator programs and incubators.
"The amount of startup companies on the verge of becoming huge is impressive," said St. Louis Mayor Francis Slay.  "I will do everything in my power to help them grow and thrive because that's what we need. This is a pivotal moment in our history."
The announcement took place at the headquarters of one of the most successful St. Louis-based startups in the United States, Enterprise Rent-A-Car, which was founded by Jack Taylor in the back of a Cadillac dealership more than 50 years ago. Here, a coalition of public and private sector leaders, in collaboration with the region's leading entrepreneurs and venture capital community, launched the ambitious Regional Entrepreneurship Initiative (REI), focused on being a top 10 region for entrepreneurs.  The REI was part of a $1.5 million project funded by a grant from the U.S. Economic Development Administration (EDA), an agency within the U.S. Department of Commerce.
"A year ago, I asked what we needed to provide the best environment to help our best startups grow," said St. Louis County Executive Charlie A. Dooley. "The answer came back with a resounding, 'Get them more money.'  So, today, we are saying we need the money, and we are putting an aggressive plan in place to raise that capital.  This guarantees the best new companies will stay in St. Louis and thrive for years to come."
The REI showcased a revitalized mindset for the St. Louis region, and in launching the effort, the region's leadership and area entrepreneurs pledge to embrace the risk and innovation needed to kick start the economy. The event also featured local startups Lockerdome, Appistry and Food Essentials, along with promotion of various elements of the support mechanisms in place in St. Louis that include Cortex, BioGenerator and Innovate STL.
Leaders of some of the region's most promising, high-growth startups believe St. Louis is on the right track, but much must be done to make it a top-tier region for entrepreneurs. Mark Lewis is CFO of LockerDome, a St. Louis-based tech startup that is now the fastest-growing sports media company on the web.
"The formal commitment on the part of St. Louis civic leadership to the development of high-impact businesses is a game changer," said Mark Lewis. "The early stage ecosystem is already thriving, commitments such as that announced today will go a long way toward ensuring St. Louis is a top 10 global technology community by 2015."
"We can do this; it's achievable," said Joe Reagan, president & CEO of the St. Louis Regional Chamber. "We know we've got money sitting on the sidelines, and what we need to do is talk about the deal flow we have here right now. That's how you raise the money."