It might be annoying (who likes being wrong?) but 27 percent of mobile users admit to having recently used their phone to settle an argument. And that's just part of the way smartphones are changing the way we research and make decisions, according to new research – and even the way we relate to other people in our social networks.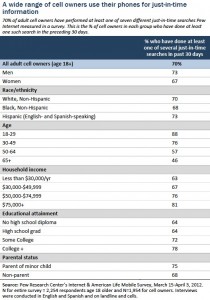 A new report by Pew Internet that a majority of cell phone owners – and, unsurprisingly, an even higher proportion of smartphone users – have used their mobile devices to perform "just-in-time services," including deciding whether to visit a business, coordinate a meeting or look up the score of an ongoing sports match, in the past 30 days.
"The rapid adoption of cell phones and, especially, the spread of internet-connected smartphones are changing people's communications with others and their relationships with information," reads the report. "Users' ability to access data immediately through apps and web browsers and through contact with their social networks is creating a new culture of real-time information seekers and problem solvers."
Men led women in 'just-in-time' queries by a narrow margin and, predictably, youth was a strong predictor of mobile information engagement, with 88 percent of respondents aged 18-29 using their phones for those uses while just 46 percent over 65 did so.
"The young, the relatively well-educated and well-off, and parents of minor children are more likely than other kinds of cell owners to have used their cell phones recently for the just-in-time activities we measured in this survey," wrote the researchers.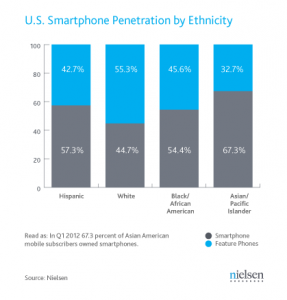 The Pew report builds on separate research by Nielsen that shows that ethnic minorities are leading smartphone adoption in the United States, with whites trailing at 44.7 percent adoption, behind African American, Hispanic and Asian mobile users, at 54.4, 57.3, and 67.3 percent, respectively. But Pew researchers found that the ways users of different ethnicities were using their phones varied, with white respondents more likely to use their phones to coordinate gatherings, and black respondents more likely to look up traffic and public transit information.
In all categories, rural users trailed behind urban and suburban respondents in their likelihood to use a phone for just-in-time information.
Pew Internet & American Life is a project of the Pew Research Center, a think tan and social research center funded by the Pew Charitable Trusts.
Images: Pew Research, Nielsen