On a typical night, the Marquee club in New York City's Chelsea neighborhood is packed with beautiful people in suits or sky high heels.  On Wednesday, the club was transformed into a scene from Revenge of the Nerds as the lords of the internet gathered for the fourth annual Webutante Ball at Internet Week New York.
The Webutante Ball is a staple of the weeklong New York celebration of all things digital each spring. It is a chance for hardworking startup and technology teams to get out of the office and into a nice outfit for the evening while sipping on free booze. Unlike many startup events, the Webutante Ball doesn't pretend to be all about networking or luring partygoers to download your team's new app. Instead, the event is unapologetically a place for geeks to let loose (and hopefully not end up tagged in a precarious Facebook photo).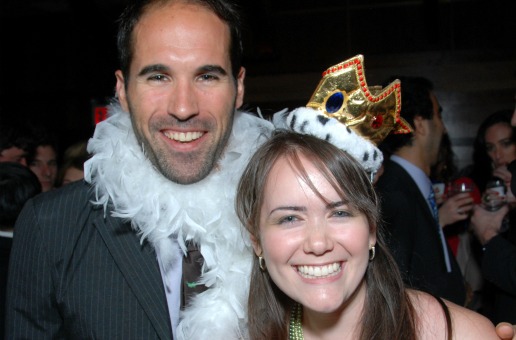 A favorite tradition is the crowning of the king and queen of the Internet. This year, the honor belonged to the Shelby.tv's CEO Reece Pacheco and Brand Manager Lauren Appelwick. The king and queen danced together in a tongue in cheek nod to the nerd prom. Past crowned Webutante royalty includes comedy writer Alex Blagg, Arthur Kade, and "the hipster grifter" Kari Ferrell.
Also in attendance this year was Steve Cheney of GroupMe, Dick Talens of Fitocracy, Ben Lerer of Thrillist, and Preston Charles of MTV. Hagan Blount of Ingk Labs was spotted donning a boa made out of fake $100 bills, and Webutante Ball founder Thrillist Managing Editor Richard Blakeley was spotted in the crowd as well.
The event attracted over 700 attendees. Check out some of the party pics snapped by Steve Hall of Adrants on his flickr set.
Internet Week New York is now in it's fifth year. The weeklong celebration isn't just about the party, although the New York tech scene knows how to get down. The event also includes panels and workshops that cover topics ranging from viral television, content delivery, digital ad networks, emerging social technologies, and more.
Photo courtesy of Adrants.